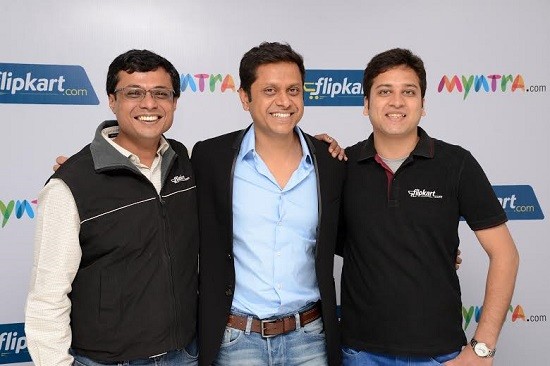 Apple's iPhone 7 and the iPhone 7 Plus will be sold in India through Flipkart, but this is not the news that should get you excited now. Major update is that Binny Bansal, CEO at the e-commerce giant turned himself into a delivery boy to personally give out iPhone 7 units to select pre-order customers.
Deliveries of Apple's new iPhone 7 and iPhone 7 Plus began at 7 pm IST on October 7 and the highlight here was Binny Bansal who was advertised by Flipkart to hand-deliver iPhone 7 consignments to select buyers in Bangalore.
"Flipkart CEO Binny Bansal will be one among the delivery executives who will be delivering the iPhone 7 today starting at 7 PM in Bangalore. Who will be first lucky customer who will get the first phone today?" Flipkart said in an earlier statement.
Apple iPhone 7 customers, having pre-ordered their phones through Flipkart can let us know if they saw Bansal at their doorsteps on October 7. As of now, Apple has chosen Flipkart as an authorised seller of iPhones in India.
However, what is notable at this juncture is the fact that rival e-commerce company Snapdeal has also started taking official orders to deliver iPhone 7 and iPhone 7 Plus handsets across India.
As a promotional offer, , consumers can avail discounts on the new phones through Snapdeal's on-going exchange offer with zero cost EMI option. American Express credit card holders get an additional Rs 10,000 cashback on booking Apple iPhone 7 and iPhone 7 Plus.
Nonetheless, Flipkart's promotion of advertising Binny Bansal as a delivery executive captures the eyeballs and beats rivals hands-down.
If you are looking at purchasing Apple's newest flagships, you can do so, but it is not known whether Bansal would personally deliver it to you now. Cost-wise, the new iPhone 7 and iPhone 7 Plus will set you back by Rs 60,000 (price of a 32GB edition). If you have got money to burn, then try going-in for a 256GB variant of iPhone 7 Plus that is priced at Rs 92,000.