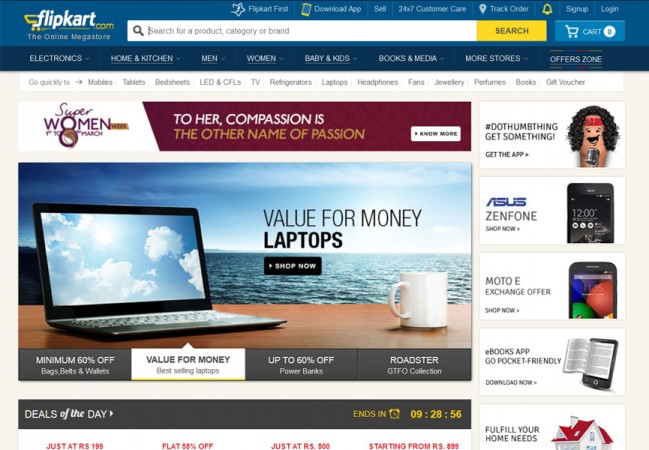 Amazon and Snapdeal, beware! Rival Flipcart has earned the bragging rights of highest 'online shoppers' traffic, according to the latest MasterCard online shopping survey.
Per the survey, which was conducted across 25 markets in the fourth quarter of 2014, Amazon and Snapdeal were the second and third most visited e-commerce site, followed by Ebay India. Niche e-commerce sites like Jabong and Myntra trailed far behind.
The survey revealed that online purchases made through mobile devices have grown over 100 percent over the past two years, even as the major e-commerce sites reported that over half of their sales come through mobile sites/apps.
Mobile phones, movie tickets, clothing and music download witnessed maxiumum sales.
However, Flipkart is not resting on its laurels. The company has roped in former Google executive Punit Soni to lead its product development and innovation as Chief Product Officer.
"His (Soni's) deep experience in launching successful tech-related products and his extensive relationships in the US and abroad will help Flipkart stay on the cutting edge," Mukesh Bansal, head, Flipkart commerce, said.
Soni, who received his MBA from Wharton Business School, also was the vice president of product management at Motorola. While at Google, Soni was involved in the development of several products including Google Books, Google News, Google Mobile and Google Plus. At Motorola, he oversaw the development of Moto X, Moto G and Moto E.
The appointment of Soni comes as a crucial time as Flipkart, which has attained a valuation of over $10 billion, looks to race ahead of rivals like Amazon and Snapdeal. According to Bansal, Flipkart will concentrate on the domestic market and consolidate its position as the biggest e-commerce site in India (very much like Alibaba in China), though international expansion is also on the horizon.