Sale, sale, sale ! Flipkart big billion day, amazon great Indian sale, snapdeal unbox diwali sale, myntra, shopclues all have their sales going on. But what is that you need to do as a consumer to ensure you get the best bang on the buck in the big billion day on the flipkart offers that are shown and never get cheated ?
To get comparison tool click here
As you can see in the image above, the price of the product was raised from 710 to 1520 and still flipkart was showing some 20% off on the product in an earlier big billion day as a discounted offer. Imagine you bought this product thinking it was a good flipkart deal which was clearly misrepresented by Flipkart. You would have easily lost over 800 rs if you did not
There are other lot of ways that you could end up losing a lot of money in sales like big billion day and great indian diwali sale. On an average a smart shopper who uses better shopping techniques saves over 25% on his shopping and saves 20% more time as compared to a shopper who does not use them and are 30% more happier. So its absolutely essential to follow better shopping techniques especially during sales like big billion day on flipkart to have your peace of mind and ensure you get the best bang on the buck. These techniques when learnt would help you shop online on flipkart, amazon smartly and not just during big billion days
For making sure you never lose money while shopping online on sites like flipkart, amazon specially during the Sale time, follow the quick and simple tricks below :-
Shop from desktop. The move from flipkart big billion day to go app only was also to stop consumers from comparing prices. Ex
First and foremost install the shopping sale chrome extension from buyhatke.
What is it ? So this is a tool that helps you compare prices, and see price trends and get best coupons and offers and also get price drop alerts on your fav products instantly.
So after installing the extension you can go to any shopping site and you would find insights in a beautiful format.The vid below gives a summary of how it works:
To get comparison tool click here
Explore more. Do not get attached to a specific store. That you need to only shop for offers from flipkart on big billion day or amazon. There might be other stores that might be offering great products at better prices or offering better deals. Hence always compare prices using browser extensions or using shopping assistants on mobile. And its time saving and simple as you get to see the price comparison right there on that shopping page
Do not get lured by the hype where the sites claim to offer a whooping 70% or 80% off on big billion day or great indian sale. A lot of the times they increase the prices or change the MRP to make the discounts look attractive. So be sure to check price variation trends and not fall for anything mentioned as offer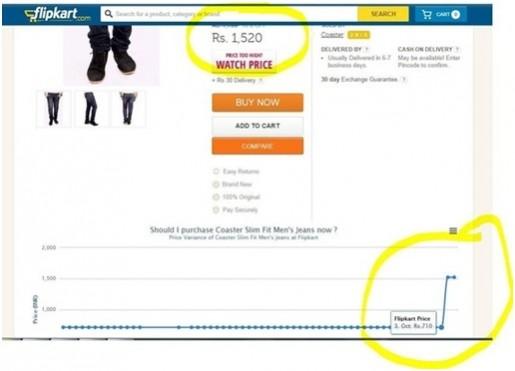 In this image above you can see how the price was increased by more than a double right before the sale, i.e,, from 710 to 1520.
Also follow predictions on whether the price is expected to fall of a product and should you buy it right now or wait for sometime by setting price drop alerts

Be sure to check for other deals in the same category. There might be some products with bigger price drops that might not be shown prominently by the e commerce sites as the margins for them might be low there. And when you are not specific to a brand then you can opt for these higher price drop products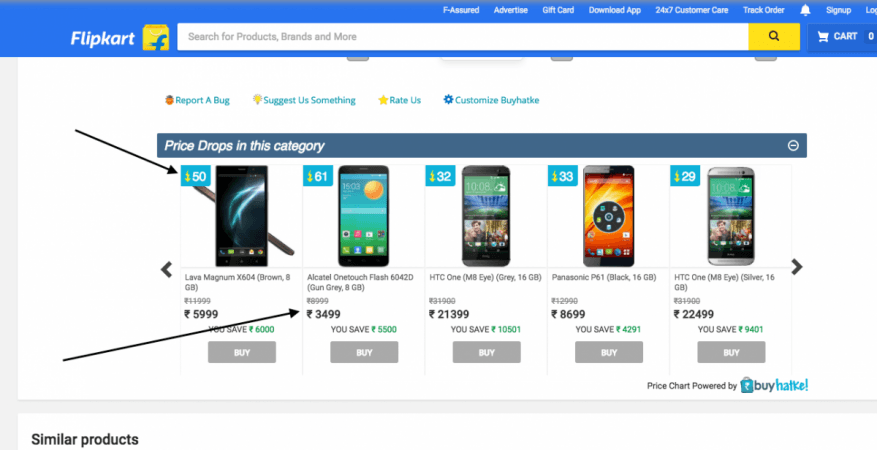 Like in this image you can see deals from other category on flipkart product page
Coupons: Many e commerce stores offer discount coupons. Ensure you apply them at checkout. This can save you anywhere upto 20% of your cart value. And applying them is very simple with browser extensions like Buyhatke, it's just a click away. You just need to look for the apply coupon button on the cart page and click it. It would fetch the best coupon codes, apply them and show you the reduced cart value automatically.

Impulse shopping is a big No. You might end up buying things you would never use. So keep your wishlist ready beforehand and set price alerts on them.
Look for exchange offers. There are some exciting offers on big billion day on flipkart on electronics as a category. But always ensure you do your research while doing it.
If shopping from Mobile apps use Shopping assistants to understand all these insights on mobile
Feel free to use the cancellation and returns policy if you have over purchased.
The infographic below a summary of tips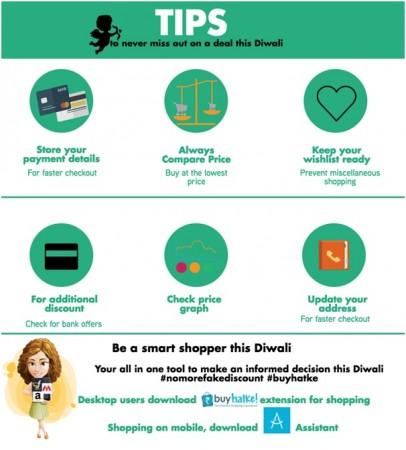 To get comparison tool click here
The Buyhatke chrome extension has saved over 350 crores for users while shopping online during sales like big billion day or Amazon great indian diwali sale All these tips are applicable whenever you are shopping not only big sales like big billion day. So whenever you are shopping online on e commerce sites like flipkart do ensure you follow the tips.