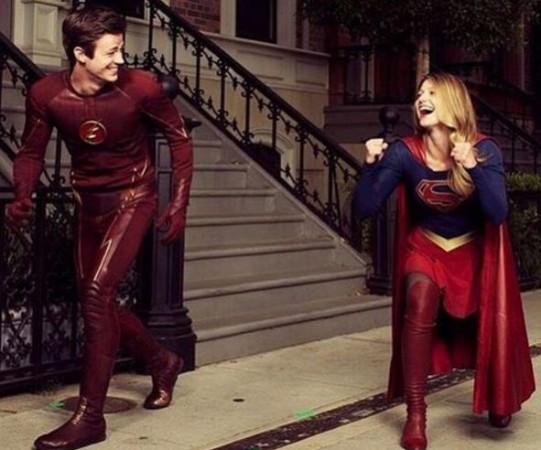 Every DC fan was ecstatic on hearing "The Flash" would be zooming over from The CW to CBS soon. Now, we have got set photos from the "Supergirl" Episode 18 "World's Finest", which shows Italia Ricci as Silver Banshee, which is making fans deliriously happy.
Fans have known for a while that Barry (Grant Gustin) will travel through the multi-verse and reach Supergirl's (Melissa Benoist) National City in an upcoming episode of "Supergirl." It was also revealed that the title of the episode would be "Worlds Finest", and that it would mark Episode 18 of the CBS series.
The announcement was confirmed by Greg Berlanti and Andrew Kreisberg (executive producers of "The Flash" and "Supergirl"), who said in a statement: "We want to thank Grant Gustin for making the time to come visit (on top of his already immense workload) and all of the folks at CBS, The CW, Warner Bros. and DC for working this out. And finally thanks to the fans and journalists who have kept asking for this to happen. It is our pleasure and hope to create an episode worthy of everyone's enthusiasm and support."
Also Read: Cisco meets newly single Hawkgirl in 'Legends of Tomorrow' Episode 5
Meanwhile, Italia Ricci's addition to "Supergirl" was announced in December 2015. She was set to play the role of supervillain Silver Banshee, who also has an alter ego called Siobhan Smythe, a rival for Kara at Cat Co. However, it was not known she would be the villain when Barry came to town.
The following leaked image from the sets of "Worlds Finest", posted by "pixter" on Imgur, however, confirms it.
Meanwhile, Grant Gustin has been posting a series of photos from the "Supergirl" sets via instagram.
"Supergirl" Season 1 Episode 18, "Worlds Finest" will be aired by CBS on Monday, March 28, 2016.