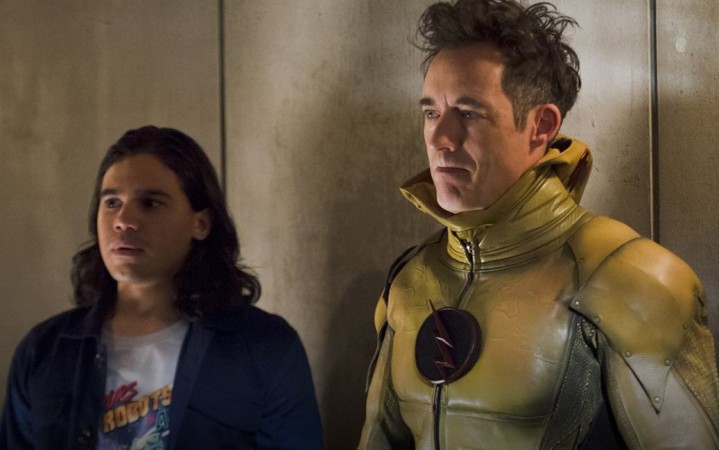 "The Flash" Season 2 came to a universe-altering finale with episode 23 "The Race of His Life." In it, fans saw Barry (Grant Gustin) going back in time to protect his mother from the Reverse Flash (Matt Letscher) and alter the timeline forever.
The finale also saw Dr Wells (Tom Cavanugh) of Earth-2 and his daughter Jesse (Violet Beane) returning to their own world along with Jay Garrick (John Wesley Shipp). Although it seemed like the end of the storyline for these characters, Barry going back in time means they can all come back.
When Barry stopped the Reverse Flash from killing his mother, he prevented the villainous speedster from getting stranded in his past, meaning he never killed the actual Dr Wells or take on his persona. In all possibility, Dr Wells of Earth-1 would be still alive when the show returns with Season 3, and would be still married and have a daughter, Jesse of Earth-1. This theory is further cemented by the fact that Cavanugh is confirmed as a series regular for the upcoming season.
Also Read : 'Sense8' cast can't keep their hands and lips off each other at Sao Paulo Gay Pride
Although fates of Beane and Keiynan Lonsdale, who plays Wally West, in the show remains uncertain, it is safe to assume that they will all be present in Season 3, along with the Earth-3 doppelganger of Henry Allen, who happens to the Flash of his world. Wesley Shipp, after all, used to be the scarlet speedster in the 1990s "The Flash" series.
It is also confirmed that the hyper-intelligent gorilla Grodd will also return for Season 3. Fans will also get to see Gorilla City, where Team Flash has sent Grodd to, in Season 2. This probably means we will also meet Solovar, the benevolent, sentient monarch of the city.
It is clear that "The Flash" Season 3 is going to recreate "Flashpoint" from the comic books. The whole point of the event is for Barry to learn that his mother's death is inevitable and an important point in history. Meanwhile, it remains to be seen how the showrunners tackle that.
Considering the show will return coming fall and based on the previous two seasons, it is safe to assume that Season 3 will premiere in October. In all probability, Season 3 episode 1 of "The Flash" will be aired on Tuesday, Oct. 4 or 11.