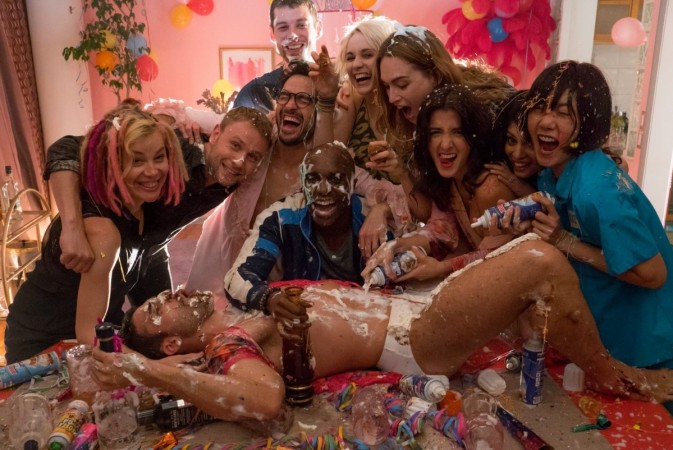 The chemistry among the cast of "Sense8" is clearly evident from their performances on screen and the photos they share from the sets. The cast is currently shooting for Season 2 and was at the Sao Paulo pride march and were seen kissing, cuddling, groping and grinding against each other.
Fans of "Sense8" that were attending the gay pride were obviously ecstatic about seeing the actors get close and intimate on a float. It is not known how much of the kissing was for the cameras and how much for the fans.
As fans know, Season 1 of "Sense8" had featured some sensual orgy scenes involving most of the sensates. Now, with the sensates having gotten so much closer, it is obvious that they will share similar experiences this season as well.
On the float, the obvious couples like Lito (Miguel Ángel Silvestre) and Henrando (Alfonso Herrera); Will (Brian J Smith) and Riley (Tuppence Middleton); and Kala (Tina Desai) and Wolfgang (Max Riemelt) are seen being intimate with each other. However, other photos show more people with the couple and some non-couples getting cosy with each other.
Also Read: 'RuPaul's Drag Race' star Naomi Smalls about talks loving herself in exclusive interview
One photo shows Lito holding on Wolfgang as he dances with Kala. In another picture, Will is dancing with Sun (Doona Bae) as Riley holds her hands. Yet another one sees Nomi (Jamie Clayton) being carried by Wolfgang and Capheus (Aml Ameen), as Will and Riley makes out on the side.
Here are some of the photos and videos shared by "Sense8" fans who attended the Sao Paulo Pride March: