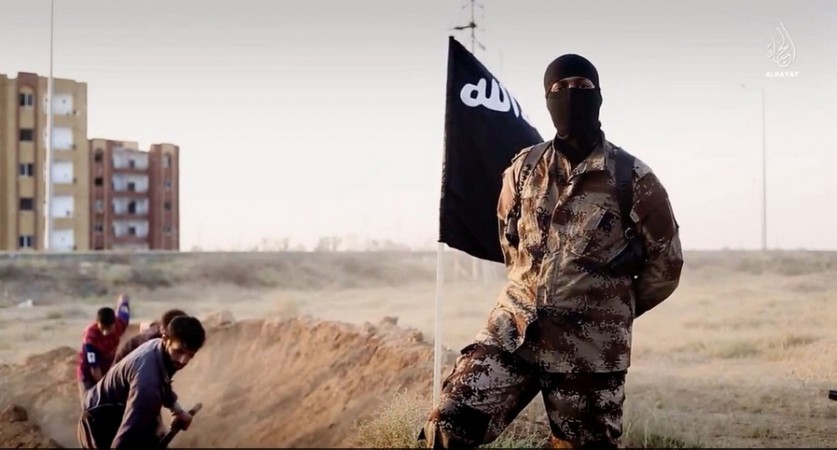 Militant group Islamic State (ISIS) has released a propaganda video showing what they claim to be a group of Syrian soldiers 'digging their own graves' before they are killed in a mass jihadist-style shooting, making them fall into the ditch they were excavating.
The 55-minute footage praises the Islamic State's victories and warns the United States against getting in the way of its goal to create a caliphate in parts of Iraq and Syria.
But according to experts, the video, which is titled "Flames of War", is a propaganda that aims to recruit English speakers, the CNN noted.
The intelligence community is particularly interested in hunting down one jihadist who appears briefly at the end of the video. The man who speaks fluent English with a North American accent orchestrates the barbaric act of the mass execution of the purported Syrian soldiers.
Officials are analyzing the video in order to identify the man's origin but nothing much is known about the man's background or whether he is indeed an American or if he only briefly stayed in America.
In the video, the jihadist first appears to speak Arabic of a classical dialect and his fluency appears to be just like a native Arabic speaker's, news sources have noted.
But the ISIS leader, clad in a camouflage uniform and wearing a mask, rapidly switched to English. A number of men are seen behind the jihadist, digging a ditch. The masked man claims that the men are Syrian soldiers who were assigned to a 17th Division military base near the Syrian city of Raqqa. The militant then reveals that the soldiers, who were apparently captured in an ISIS attack, are "digging their own graves in the very place where they were stationed."
A group of militants are then shown executing the men en masse, who fall into the ditch that they were digging.
Reports have noted that intelligence officials were focusing on every details of the man's voice, looking for any clues of a particular dialect or way of speaking that could lead investigators into a particular community to seek additional clues.