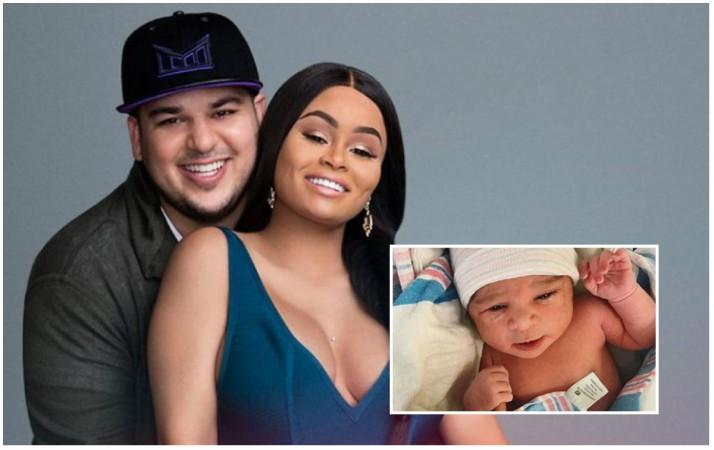 On Thursday, the Kardashians welcomed the newest member of the family, daughter of Rob Kardashian and Blac Chyna. Chyna gave birth to daughter Dream Kardashian by C-section at the Cedars Sinai hospital in Los Angeles.
Soon after the delivery, Rob posted the first photo of his daughter Dream. "Today was amazing :) I am so lucky!! Thank you @blacchyna for having our baby and being so strong! I love you so much and can't wait to see her get older day by day with you Chy! I love you and Dream so much and Appreciate both of you I know everyone saying that's my twin but that's def your nose Chy lol," the Arthur George sock designer, 29, captioned the photo of little Dream clutching his finger while snuggled in a hospital blanket and beanie," he captioned the photo.
In another post, Rob said that she looks exactly like his father Robert Kardashian. "She's an exact copy. Pops sent us an angel. It's truly a blessing. He's happier than anyone on this day I'm so happy and thankful GOODNIGHT."
Dream, who is Rob's first child and Chyna's second, weighed 7 pounds and 5 ounces. Her middle name is Renee after Chyna's real name Angelina Renee White.
Meanwhile, celebrities took to social media immediately to congratulate the couple and welcome the newest member of the Kardashian clan. Dream's aunts Khloe Kardashian and Kylie Jenner were among the first to tweet about it.
"My new niece is absolutely stunning!!! So thankful I was able to land in time to witness this miracle happen! Praise God!" Khloe tweeted.
"I can't stop looking at her congrats @robkardashian @BLACCHYNA she's so beyond beautiful, a dream," Kylie tweeted.
Amber Rose, Chyna's best friend, also shared the happy news on Instagram and congratulated the couple.
I honestly thought "Dream Kardashian" was trending for people to share what they would want their dream Kardashian to be like...

— AMY (@AmyAspeling) November 10, 2016
If you think this has been a bizarre week, this morning Blac Chyna gave birth to North and Saint West's cousin, Dream Kardashian. Seriously.

— Jenny Johnson (@JennyJohnsonHi5) November 10, 2016