Jammu and Kashmir Police on Thursday claimed to have recovered a "perfume bomb", the first of its kind, from the possession of a teacher-turned- Lashkar-e-Toiba (LeT) terrorist Arif Mohammad, a resident of the Reasi district of J&K.
Sharing details about busting a module of LeT terrorists, the Director General of Police (DGP) Jammu and Kashmir Dilbag Singh disclosed that a "perfume IED" has been recovered from a terrorist who was part of the module busted by the police after solving the Narwal twin blasts case.
"So far we had seen IEDs with explosive materials, sticky bombs, and timer-fitted IEDs but a new type of IED was recovered from the terrorist which is Perfume IED", the DGP said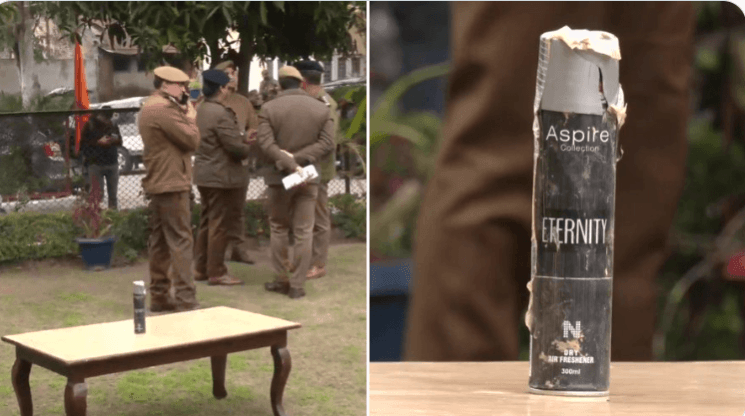 "This IED is in a bottle form and seems like a perfume bottle but contains explosive material," the DGP said, adding that "since the IED is new to us, experts will see how harmful and how powerful it can be. We have not touched it so far."
Team of experts calls to examine "perfume bomb"
While admitting that local cops are not specialists in dealing with such bombs, a team of experts has been called to examine the perfume IED. "Only experts will touch the perfume bomb", he said and added that experts will examine the IED and other material issued in making such bombs which are very easy to plant.

Terrorist carrying a "perfume bomb" was a government teacher
According to police, the terrorist who was carrying the "perfume bomb" was a government teacher in the Reasi district of Jammu and Kashmir.
"Arif is a government employee and is an active terrorist of the Lashkar-e-Toiba outfit. He was working at the behest of Qasim, a Reasi resident, and his uncle Qamardin, also a Reasi resident, presently in Pakistan, who are part of LeT," the DGP said. He said Arif was involved in three IED blast incidents.
Earlier Pakistan dropped "sticky bombs" through drones
Before smuggling "perfume bombs" in Jammu and Kashmir Pakistan dropped "sticky bombs" through drones in different parts of Jammu and Kashmir.
Recently, sticky bombs dropped by terrorists sitting across the border in Pakistan using drones, were recovered in the Samba sector of the Jammu region along the International Border.
The Jammu and Kashmir Police recovered an arms consignment consisting of an improvised explosive device (IED) with an in-built magnet that could be placed on any vehicle and exploded with the help of a timer or a remote.
Reports said that "sticky bombs" found in Samba were similar to the ones used on February 13, 2012, attack outside the Israeli embassy. On February 13, 2012, an Israeli embassy car exploded when a magnetic bomb stuck to it went off in a high-security area in New Delhi, injuring a wife of an Israeli envoy.
A major tragedy was averted with the timely detection of a sticky and timer-fitted Improvised Explosive Device (IED) by Jammu Police at Sidhra Bypass on the outskirts of Jammu city.