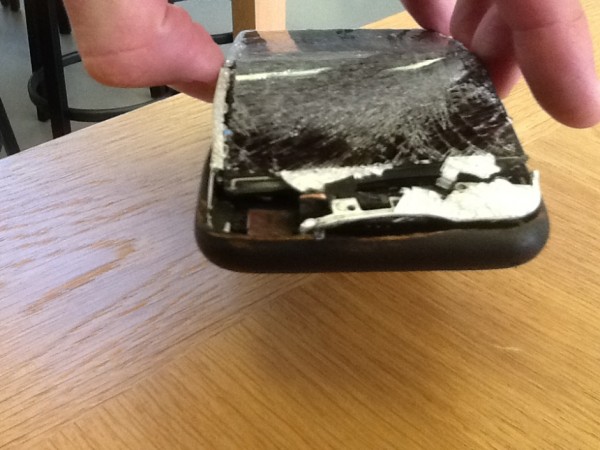 Apple is not new to complaints about exploding iPhones, but it is the first time that its latest iPhone 6 is involved in such a situation. An Indian user of iPhone 6 filed an FIR after his new device exploded due to excessive heating. Luckily, the owner of the iPhone 6, identified as Kishan Yadav, threw the handset out of the car before it exploded. The incident took place in the northern part of India in Gurgaon.
While narrating the incident, Yadav told the press that he was talking to his friend on speaker when he saw sparks coming out of his iPhone 6. He immediately threw the device out of his car. To his surprise, the iPhone 6 burst into flames just when it hit the ground, The Times of India reports.
Yadav recalled that the iPhone 6 had around 70 percent battery charge and his friend was on the line when he threw the phone. Yadav took the damaged iPhone to the shop from where he purchased it two days ago and was asked to go to an authorised Apple service center. The Apple service staff took the handset for inspection and asked Yadav to wait for an update on the matter.
Yadav also got an First Information Report (FIR) registered with the police.
There have been several instances when iPhones exploded in the past and victims were treated with severe burns as well. In March, a man from Long Island, NY, also complained that his iPhone 5C exploded in his pocket and he was treated for third degree burns. Other instances involve a 13-year-old, who faced a similar explosion with her iPhone 5C that was placed in her back pocket and suffered burns, PC Mag reported.
Apple has not commented on the matter, but a company's rep told TOI that the Gurgaon incident is being looked into.