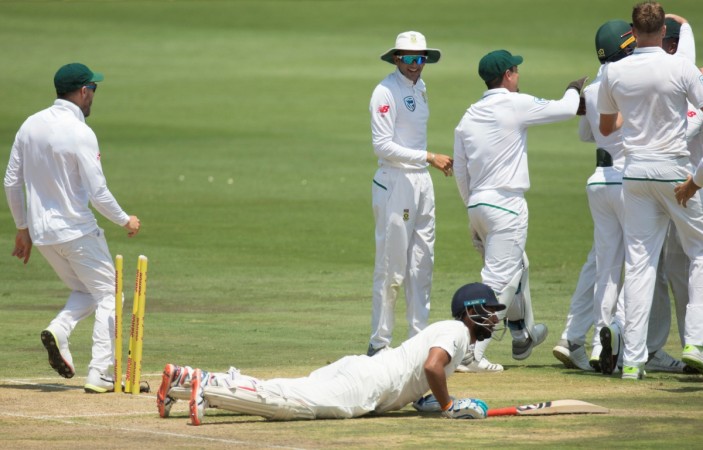 Cheteshwar Pujara achiveved what no other Indian batsman could in Test cricket. But he is not proud about the feact because it is an unwanted record.
On Wednesday (January 17), at Centurion's SuperSport Park, India resumed at 35/3, needing a further 252 to win the second Test against South Africa. Pujara and Parthiv Patel were the overnight batsmen.
When it was required to apply themselves and bat sensibly, Pujara did the unthinkable. He went for a needless third run and ran himself out. He is the first Indian batsman and overall 23rd in Test cricket history to be run out twice in a match.
The last man before Pujara to be run out twice in a Test was New Zealand captain Stephen Fleming against Zimbabwe in Wellington in December 2000.
In the first innings, Pujara was run out for a duck, trying to get off the mark on the first delivery he faced. His batting partner was captain Virat Kohli. His dive could not save him.
Again, in the second innings, he dived to get into the crease but failed as AB de Villiers' brilliant throw was well collected by wicketkeeper Quinton de Kock and wickets disturbed. Pujara's bat was on the line.
India's number three batsman went back to the pavilion for 19. Head coach Ravi Shastri was not impressed with Pujara's running as he was stunned.
Soon after his dubious record, the batsman's name was trending on the micro-blogging website Twitter. People started making fun of him and there were also angry reactions.
Here are some of the reactions from Twitter
Cheteshwar Pujara should take some tips from Jasprit Bumrah on how to cross the line. #SAvIND

— Rishabh Bhandari (@jokebazz) January 17, 2018
Im writing a book " HOW TO GET RUN OUT" courtesy CHETESHWAR PUJARA@cricbuzz

— spiderchandra (@spiderchandra) January 17, 2018
As if the SA bowlers were searching for ways to pick wickets, Cheteshwar Pujara runs himself out ??? #SAvIND

— Swetha Harini (@Swez_S) January 17, 2018
*Cheteshwar Pujara ideas*
If you run urself out, you need not worry abt any demons in the pitch!#SAvIND #INDVSA pic.twitter.com/pykL6KgmHZ

— That LOL Buddhu (@lolbuddhu) January 17, 2018
Related
Here's why Virat Kohli got angry at Lungi Ngidi in Centurion Test
Mohammed Shami questions South Africa's thinking behind slow Centurion pitch