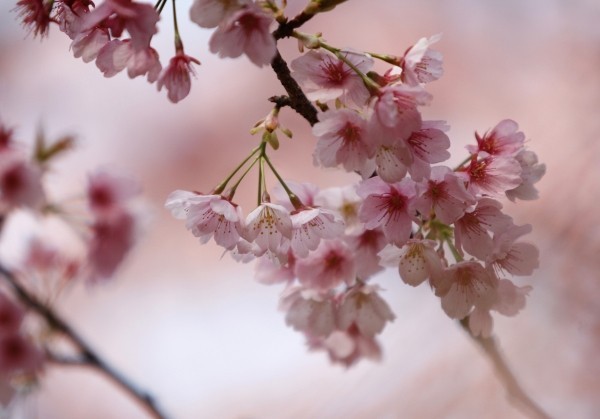 Today is 20 March, First Day of Spring, also known as Spring Equinox or Vernal Equinox. Winter is over and spring has officially set in, bringing ray of hope to the people. Snow will soon start melting and trees will start bearing flowers.
Celebrated on 20 March every year, First Day of Spring clashes with International Day of Happiness which has been declared by the UN. The sun shines directly on the equator only twice a year - 20/21 March and 22/23 September – and these days are known as the vernal (Spring) equinox and the autumnal (fall) equinox respectively. Vernal equinox marks the onset of spring while autumnal equinox marks the beginning of autumn.
There is a feel-good factor about First Day of Spring as it sends out the message to the people that warm days are not far off, the day being the first official astrological day of spring.
Here are inspirational quotes, messages and sayings for First Day of Spring or Vernal Equinox:
1) "What a strange thing! to be alive beneath cherry blossoms" - Kobayashi Issa
2) "You can cut all the flowers but you cannot keep spring from coming" - Pablo Neruda
3) "Spring is when you feel like whistling even with a shoe full of slush" - Doug Larson
4) "It is spring again. The earth is like a child that knows poems by heart" - Rainer Maria Rilke
5) "Behold, my friends, the spring is come; the earth has gladly received the embraces of the sun, and we shall soon see the results of their love!" - Sitting Bull
6) "Spring is a true reconstructionist" - Henry Timrod
7) "One swallow does not make a summer, but one skein of geese, cleaving the murk of March thaw, is the spring" - Aldo Leopold
8) "Spring is the time of plans and projects" - Leo Tolstoy
9) "No matter how long the winter, spring is sure to follow" - Proverb from Guinea
10) "In the Spring, I have counted 136 different kinds of weather inside of 24 hours" - Mark Twain
11) "No man can taste the fruits of autumn while he is delighting his scent with the flowers of spring" - Samuel Johnson
12) "Spring is nature's way of saying, 'Let's party!'" - Robin Williams
13) "I suppose the best kind of spring morning is the best weather God has to offer" - Dodie Smith
14) "Sweet April showers do spring May flowers" - Thomas Tusser
15) "Despite the forecast, live like it's spring" - Lilly Pulitzer
16) "A man has every season while a woman only has the right to spring" - Jane Fonda
April hath put a spirit of youth in everything" - William Shakespeare
17) "Spring is God's way of saying, 'One more time!'" - Robert Orben
18) "The Spring I seek is in a new face only" – Allen Tate
19) "From the end spring new beginnings" - Pliny the Elder
20) "For behold, the winter is past; the rain is over and gone. The flowers appear on the earth, the time of singing has come, and the voice of the turtledove is heard in our land" – Song of Solomon 2:11-12
21) "If you watch how nature deals with adversity, continually renewing itself, you can't help but learn" - Bernie Siegel
22) "Spring is the time to find out where you are, who you are, and move toward where you are going" - Penelope Trunk
23) "It is spring again. The earth is like a child that knows poems" - Rainer Marie Rilke
24) "Spring will come and so will happiness. Hold on. Life will get warner" - Anita Krizzan
25) "You can cut all the flowers but you cannot keep spring from coming" — Pablo Neruda