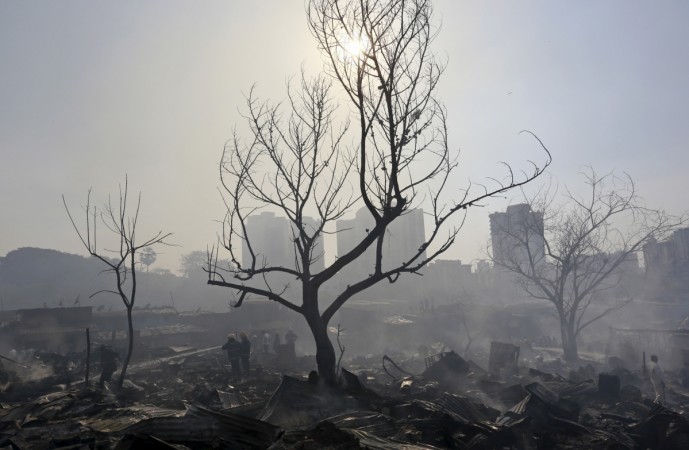 A fire that begun Saturday at Mumbai's Deonar dumping ground is reportedly still raging Monday. As many as 10 fire engines and eight water tankers were sent to the spot after a second fire broke out Sunday night at Mumbai's largest and oldest dumping ground.
Recurrent fires in Deonar, a suburb in eastern Mumbai, have residents around the area demanding the removal of the garbage dump as it is a risk to health and environment. Locals have reported adverse reactions to health like asthma, skin rashes and higher child mortality, according to the Hindustan Times. The fire, which reportedly covered Chembur to Navi Mumbai, also led to degradation of air quality in the city.
"The fire broke out at around 10 a.m. (Sunday). I think the dumping ground should be removed from this place so that the local residents can be relieved. This dumping should be carried to the place where is there less population. The local residents face a lot of problems because of the smoke that comes out and one's with the problem of asthma suffer a lot," Shairaz Hussain, who lives close to the dump, told ANI.
Another resident, Mushtaq Khan, accused the government of inaction.
"They only come and make promises but nothing is done on the ground. Whenever a major fire breaks out, some political leader comes and assures people that the situation would improve. But in reality nothing happens and this dumping is never stopped," he told ANI.
The Sunday fire was the second massive fire in the last two months, NDTV reported. In February, Congress councillors protested the Jan. 28 fire that lasted a week at the dumping ground by wearing pollution masks to a Brihanmumbai Municipal Corporation budget meeting, ANI reported. The councillors said that 70 percent of the population in the area is minority, while questioning why the government doesn't take action.
"Frequent fire incidents in Deonar dumping ground is a conspiracy to malign Shiv Sena," Maharashtra Environment Minister Ramdas Kadam was quoted as saying by ANI in the state government's defence.