MS Dhoni was on air, making quips about being like a fine wine that gets better with age, after scoring a brilliant 78 in the third one-day international against the West Indies. That wine, thought to be a Bordeaux vintage turned out to be a homemade one from a few weeks ago, at least for Sunday, as the former captain floundered in what should have been an easy chase.
Needing to score just 190 to win the series, India struggled on a slower-than-slow wicket in Antigua, with Shikhar Dhawan (5, 7b), Virat Kohli (3, 12b), to the short ball again, and Dinesh Karthik (2, 19b), showing why he should never have been picked, all failing with the bat.
Despite those three relatively early wickets for the West Indies, though, India were still in control, especially when the best finisher the world has ever seen allied for a half-century partnership with the solid-as-a-rock Ajinkya Rahane.
That partnership of 54, though, took 18.1 overs, and the West Indies, bowling tight lines and making it difficult for the batsmen to get anything away, put the pressure on.
Rahane (60, 91b, 7x4) played a false stroke and fell, leaving Dhoni to take India home.
The wicketkeeper still had Kedar Jadhav and Hardik Pandya to help him out, and the required run rate, when Rahane had to go, was only 4.68 – 89 from 19 overs.
Easy as can be, right?
Well, Dhoni has had trouble finishing games over the past three years or so finishing games with those ice-like nerves showing signs of melting every now and then.
With Jadhav (10, 14b) and Pandya (20, 21b, 1x4, 1x6) unable to stick till the end and Ravindra Jadeja (11, 11b, 1x4) losing his head in a pressure situation, Dhoni had to do it all, and that too a Dhoni who was finding it difficult to hit the gaps for singles, let alone hit boundaries.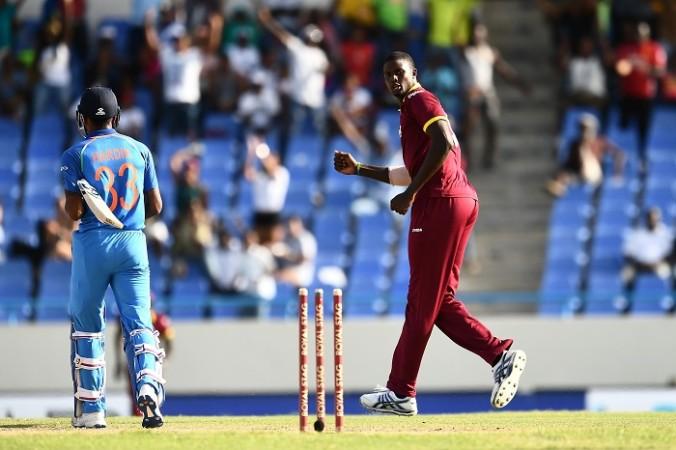 As those wickets fell around him, the pressure ramped up and so did the required run rate, which going into the final two overs was 8, albeit a makeable 16 from 12 balls.
Now, Dhoni in his prime would have taken those 16 runs off the West Indies bowlers in his sleep, but this isn't Dhoni in his prime, a 1961 Bordeaux that gets better as father time passes on. This is a Dhoni, who still has plenty to offer in ODI cricket for India, but needs help when it comes to finishing matches.
With Jadhav and Pandya failing to provide that help and Kuldeep Yadav facing too many dot balls in that penultimate over, Dhoni (54, 114b, 1x4), who would score India's second slowest fifty, 0ff 108 balls, and the slowest in 16 years, went for a big hit earlier than he would normally have – the result was the great man holing out in the deep off the final ball of the 49th over, bowled by the excellent Jason Holder, who finished with a five-for, and India losing their first match in the series.