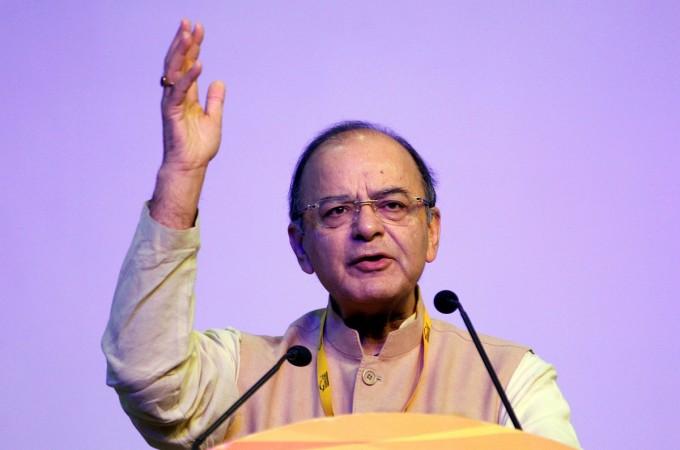 The Union Finance Ministry swung into action last night and announced a slew of measures to check the widening current account deficit (CAD) and falling rupee. Arun Jaitley, after a long meeting with Prime Minister Narendra Modi, announced the decisions to boost the investor's confidence.
Jaitley informed that the objective of the meeting was to deliberate on the issue of Current account deficit which reached 2.4 per cent of gross domestic product (GDP) in the quarter ended in June. The decisions included the review of the mandatory hedging conditions for infrastructure loans through the external commercial borrowing (ECBs).
The government has also decided to remove the 20 per cent exposure limit on the investments by foreign portfolio investors in debt to a single corporate group.
Mint reported that the government will allow the manufacturing sector to access ECBs up to $50 million, the residual maturity of these loans will be one year instead of three years. For the current fiscal year, masala bonds will be exempted from withholding tax.
The government has allowed the Indian banks to become market makers in masala bonds including by underwriting.
Highlighting the increasing trade deficit which stood at $17 billion in August Jaitley also said that ''government will take efforts to reduce non-essential imports.'' The meeting with the prime minister also witnessed the participation from finance secretary Hasmukh Adhia, economic affairs secretary Subhash Chandra Garg and RBI governor Urjit Patel.
The RBI Governor gave a presentation to the economy which showcased the strength of the economy.
"External factors like policy decisions taken by the US that is seeing the dollar strengthen, global crude prices and trade wars are impacting us despite India having strong macroeconomic fundamentals," Jaitley said.
Last few months have not been encouraging for the Indian economy. The rupee has plunged more than 12 per cent since the start of this year and it is the worst performing currency in Asia. Sanctions by the United States on the Iranian oil imports have resulted in the higher crude oil prices which eventually has increased the CAD of India.