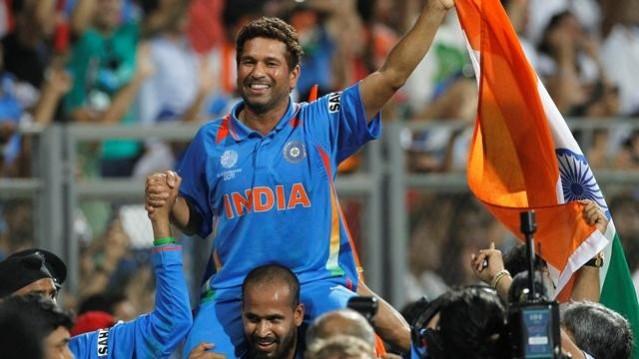 A feature film on the life of Indian Master Blaster Sachin Tendulkar is soon going to be produced by Mumbai-based production company 200 Not Out.
The film would be even more special with the Indian legend featuring in the film.
The movie would be a matter of great interest to Indians, for the film would not only focus on his cricket career but also his personal life, which has not come out in the open yet.
As far as his cricketing days as are concerned, ardent fans of Indian cricket, who consider Tendulkar as 'God' know his records on the back of their hands.
After the Mumbai-based company won the rights to make the film from World Sports Group, James Erskine, a London-based award-winning writer, director and producer has been roped in to direct the film, according to The Times of India.
Erskine is a well known director, one of the best related to sports. His resume includes "One Night in Turin", which was released prior to the 2014 World Cup.
Other films include, "Battle of the Sexes", "Pantani: The Accidental Death of a Cyclist" and "From the Ashes".
"We decided to work with Erskine after studying his many incredible films involving sports personalities. This will be the first time that he will be working in this part of the world. We will work with the best in the business for the film to be a fitting tribute to the unparalleled achievements of Sachin Tendulkar," Ravi Bhagchandka, founder of 200 Not Out told TOI.
While the film is yet to be titled, theatres across India are expected be housefull.
The work for the movie started a year ago and many well known sporting personalities' across the globe would be contributing whatever little they can in the movie, while the production company is also interested in getting various videos from cricket boards around the world to be shown in the film.
The movie is set to be released in more than 2000 theatres across the world, which is a huge number considering Bollywood blockbuster movie, "PK" was released across 5600 threatres worldwide. Other hits such as "Jai Ho" and "Dhoom 3" were released in around 2570 and 2630 theatres across India.
However the release date hasn't be announced yet.
It would not be fair to expect Sachin's film to break records, but one thing is for sure, the film will be etched in cricket fans' memory forever, like Tendulkar's characteristic straight drive.
The Indian Master bid adieu to a wonderful cricket career spanning more than two decades after playing his last Test match against West Indies in November 2013 in his home ground, Wankhede Stadium, Mumbai.
The yet to be titled movie will help one relive Tendulkar's masterclass, which can never be erased or replaced.
He is one of the living legends of not only Indian cricket, but also world cricket.