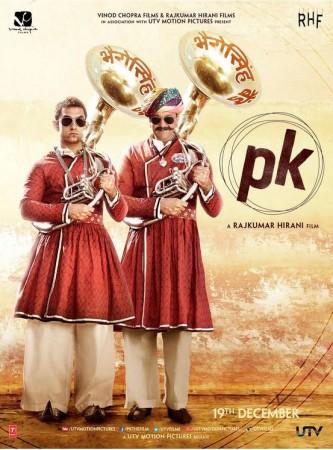 Is "PK" a film devoid of good content and all about pandering to the audience?
The whole film industry may be in awe of actor Aamir Khan and director Raju Hirani for their unparalleled success with their latest flick "PK", but Kannada film director Pawan Kumar feels there is nothing great about it.
Pawan Kumar, who is known for his films "Lucia" and "Lifeu Ishtane", has shared his views about "PK" on his Facebook page.
Pawan, known for his satirical style of writing, is candid enough to say that his opinion is highly subjective.
He says that the film does not have a great script or screenplay but has something that goes well with today's audience. Thereby, the makers of the movie are really smart as they wrote a script based on what the audience want.
"Talking about PK is quite difficult. As a filmmaker, a writer, I am actually confused. Bcoz its not a good script - not a great screenplay, BUT it works with the audience today. So maybe they knew what works with the audience and then deliberately wrote it that way. Hence they are not dumb... they are definitely super smart. They have done exactly what the Ticket buying audience want. There is no attempt at making a great cinema... and they never tried to be one either," writes Pawn Kumar.
Pawan also takes a dig at the protagonist in Hiranis' movies like "Munnabhai", "3 Idiots" and "PK".
"Munnabhai was never preachy or over smart, but both PK and 3idiots have that element strongly. In munna, Hero was innocent, he'd go through a problem and in the process of resolving it, he'd end up discovering new things which were all WOW to us. But at the end of the day they were simply a solution to his problems. But in the last two films, the protagonist is PERFECT. His problems are situational and not in the character itself. He needs to be surrounded by dumb people to look smart," says the director.
Pawan points out that the current trend of audience interest is quite scary for him, as it looks like the audience prefer only those films which have popular artistes like Aamir Khan rather than a movie with good content.
He says that cinema is only a medium of expression that reflects the trends prevailing in the society; instead if it is rides merely on the popularity of stars, then the very purpose of cinema as a medium will disappear.
His writing concludes in a pun where he says that "PK" does not work for an audience like him as he do not belong to that crowd that enjoys ₹300-crore club movies even if they are cheesy.
"Cinema as a form of expression, a medium to ask questions etc will just disappear..Having said that, PK still tries to get the audience to think, ask questions etc... its just that we are not that audience. It is our fault that we have seen so many films which are dealt with lot of sensitivity and precision story telling. So to many of us PK may seem cheesy... and we dont belong to that 300cr club. And we have no right to make fun of those who belong to that club either," concludes Pawan.