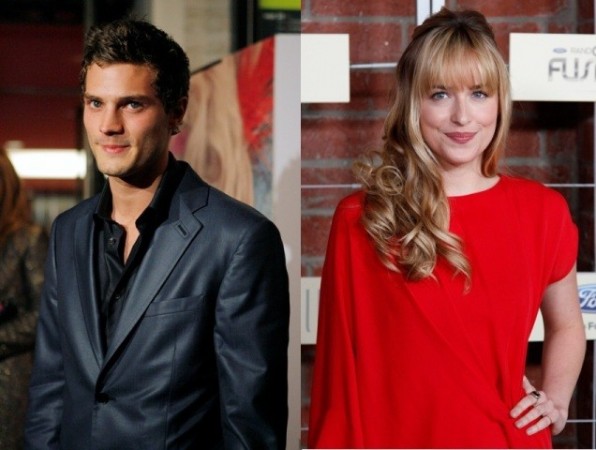 After their secret marriage, now reports of Dakota Johnson and Jamie Dornan expecting their first child has started doing the rounds. An Australian website reported saying that the Fifty Shades of Grey actress is pregnant and her co-star Dornan is responsible for it.
The daily, Australia Network News, quoting sources reported that Johnson is pregnant and "Dornan might be the one responsible for it." However, the daily also reported that these reports are plain rumours and the actress is reuniting with Matthew Hitt.
Johnson and Dornan have been rumoured to be dating ever since they worked together in the movie Fifty Shades of Grey. There are also reports that Dornan is ready to dump his wife Amelia Warner for Johnson, but these are just rumours and there has been no confirmation about the alleged affair.
"We can see sheep and lambs outside my front door. I love my life. It's brilliant. I'm surrounded by a household full of girls. It's mad, actually. I wouldn't have it any other way," Dornan said hinting that all is well between him and his wife.
Johnson and Dornan dating romours intensified recently when the actress in an interview talked about getting married secretly like her parents Melanie Griffith and Don Johnson. "That's not dissimilar to how mum and dad married the first time. Maybe I should continue the tradition and get secretly hitched to a semi-suitable male? If it doesn't work out the first time, I'll just do it again with somebody else," she said, according to IANS.
Meanwhile, Dornan in an interview to Marie Claire spoke about all the speculations about his relationship with wife and co-star. "It's one of the main reasons I left social media. They say horrific things about your loved ones, and so it opens up fast. But yes, the idea of being single makes me instantly sweat."