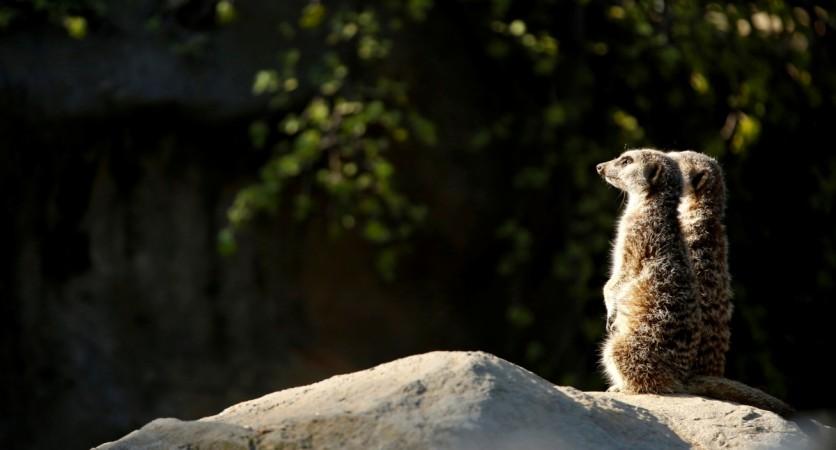 After a German tiger and a psychic cat, now a group of "mystic" meerkats have made predictions about the FIFA 2018 World Cup matches. The mystic meerkats have predicted a 2-0 win for England in the World Cup match with Tunisia on June 18.
The animals at Drayton Manor Theme Park and Zoo in Staffordshire, England, are using their football skills to predict the winner of the match. The meerkats chased a ball into the net that had England's flag.
"Our meerkats have a proven track record of making sporting predictions, so we thought we would get them involved again in this year's big tournament because they are so intuitive," Chris Mitchell, head of zoo operations at Drayton Manor, told DerbyshireLive.
"They really enjoy the animal enrichment we provide and this time, for a bit of added fun, we made special goals and a ball with mealworms to get them to dribble the ball into the winning team's net," Mitchell said, adding: "If they get this right, we will continue to provide predictions - they could go on to be as famous as Paul the Octopus!"
The meerkats had earlier predicted that Russia will beat Saudi Arabia in the opening match of the World Cup, which was held on June 14.
Meanwhile, the mystic meerkats are not the only animals making World Cup 2018 predictions. A psychic cat named Achilles predicted that the first match will be won by Russia.
Achilles, who is a deaf Russian cat, was offered two food bowls. While one food bowl had Russia's flag, other one carried Saudi Arabia's flag. The cat selected the bowl with Russia's flag, predicting the home team as the winner of the opening match.
"We went for Achilles because he is beautiful, first of all, but also because -- like all white cats with blue eyes -- he is deaf, so he has a great deal of intuition, he sees with his heart," Anna Kasatkina, a vet who oversees guard-cats at Saint Petersburg's Hermitage museum, told Buzz Sports.