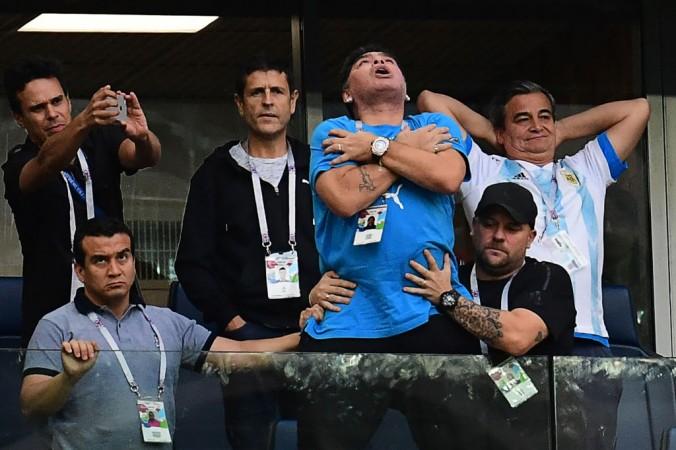 Diego Maradona was taken to a local hospital in St. Petersburg following Argentina's 2-1 win over Nigeria in a Group D match of Fifa World Cup 2018 on Tuesday, June 26.
The football great, who was at the St. Petersburg Stadium cheering for the Albiceleste, needed medical attention as he fell ill following Lionel Messi-led team's pulsating win, according to ESPN.
In a video circulating on social media, Maradona can be seen being helped from the stands by visibly worried officials and later sinking into a chair at the stadium in the Russian city. He was immediately attended by paramedics and has been stabilised, The Independent said.
The 57-year-old, on Tuesday, went through a roller-coaster of emotions as he celebrated like a possessed man after Messi's stunning opening goal, vented out his frustrations after the Nigerian equaliser and finally gave fans below his stand the middle fingers.
Nigeria fought back in the second half, equalised and threatened to end Argentina's campaign in Russia before the Albiceleste found an unlikely hero in Marcos Rojo in the 87th minute of the match, much to the relief of the thousands of fans who had stormed to the stadium.
Even before the kick-off, Maradona, who has attended all three group games of the team, enjoyed the spotlight as he held a huge banner of himself and was also seen dancing with fans at the stands.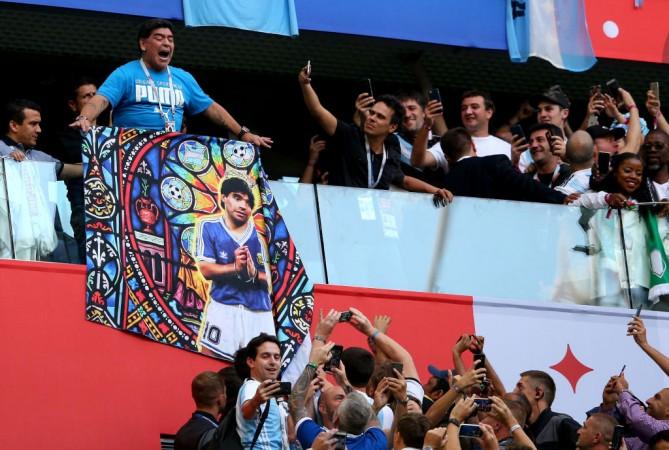 Despite all the pulsating moments on the pitch, Maradona's off-field theatrics emerged as one of the biggest talking points of the match.
Gary Lineker, Rio Ferdinand slam Maradona's middle finger gesture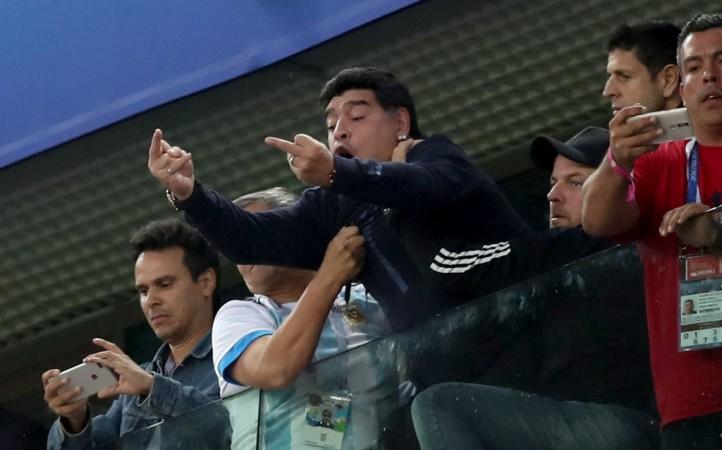 Former England international Gary Lineker, who was part of BBC's coverage, slammed Maradona for his rude gesture towards the end of what was an emotional ride for Messi's men and their fans.
"Maradona is in danger of becoming a laughing stock, I'm afraid," Lineker was quoted as saying by Telegraph.
Former Manchester United captain Rio Ferdinand also hit out at Maradona saying: "His career as a football player on the pitch was up there with the best, but unfortunately there are moments like this that do arrive. It is not nice to see that."