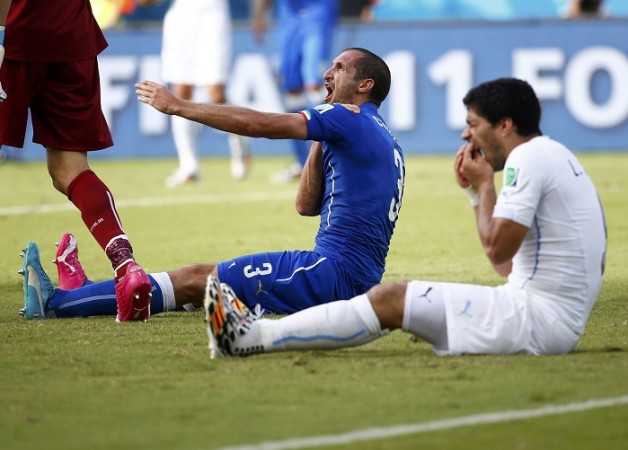 Luis Suarez took a bite of Italy, literally, and Uruguay chewed them to pieces, not literally, as the South Americans pulled off a dramatic victory over their European counterparts in a bruising, don't-wanna-try-this-at-home Group D encounter in Natal.
Why-on-earth-can't-he-just-let-his-ridiculous-football-do-the-talking Suarez was up to his old tricks again, taking a chunk out of Giorgio Chiellini, which yet again went unpunished, before Diego Godin produced a wonderful header to floor 10-man Italy, who had to play much of the second half after losing Claudio Marchisio to a straight red card, which on another day might have been overlooked.
It was not pretty, it was certainly not end-to-end, a chance every other minute football, but Uruguay, courtesy a couple of crucial decisions going their way and that unfaltering will just did enough to come away with a 1-0 victory and with it a place in the last 16 of the FIFA World Cup 2014 in Brazil.
Uruguay go through from Group D in second place, behind Costa Rica, whose final game against England finished goalless, with Italy, for the second straight World Cup bowing out of the biggest football tournament in the world in the group stage.
With so much at stake, and two potent attacks as well as well marshalled defences, it was always going to be a tight game and so it proved to be with chances as rare as a warm sunny day in England.
It was not for the lack of trying, but there was just that hesitancy in pouring forward in numbers that time and again moves broke down before it could really cause trouble to the defence – there was that feel of Italy games of the 90s to the tie in Natal, even if neither side were exactly negative and favouring the famous Italian Catenaccio style.
Italy were proactive going forward with their can-be-attacking-when-it-needs-to-be 3-5-2 formation, with Mario Balotelli and Ciro Immobile acting as the two strikers.
However, it was a forgettable game for one of those two centre-forwards, with Balotelli enduring one of those frustrating afternoons where nothing went right and he was easily wound up by the opponents.
Every time the ball was played up to him there was a Uruguay defender ready to make a physical challenge, and the frustrations boiled over with Balotelli picking up a yellow card. Cesare Prandelli would also not take a risk with his talented but temperamental striker, taking him off at halftime for Marco Parolo.
Italy were not too far on conceding freekicks stakes either, with the game littered with fouls from both sides making the game as stop-start as it could possibly be.
The best chance of the half probably fell to Luis Suarez, who after playing a neat one-two, saw his cross-shot blocked by Gianluigi Buffon, with the Italy skipper then also denying Nicolas Lodeiro on the rebound.
One-twos seemed like being the best way to open Italy up, with Uruguay fashioning another good chance via that route, this time in the second half, as Suarez, obviously involved again, played in Cristian Rodriguez, who fired his left-footed shot just wide.
Minutes after that opportunity the game turned in Uruguay's favour as Marchisio saw red. The referee deemed it a studs up challenge on the Italy midfielder, and you could understand why, but in reality, while Marchisio did make contact with Egidio Arevalo Rios, the contact wasn't that bad and neither was the intention as the 28-year-old was looking more to protect the ball after overplaying it rather than looking to take out his opponent.
With a man advantage, Uruguay, who needed the win, and were always going to get more desperate as time wore on, unlike Italy who could have gone through with a draw, were suddenly the possession masters, when at halftime they had less than 40 percent of the ball.
Uruguay nearly broke through right after the red card, as Edinson Cavani, who did all the dirty work, slipped the ball through to Suarez, whose right-footed show with the outside of his boot was well kept out by Buffon.
As Italy held firm, Uruguay got frustrated, and so did Suarez, and we all know what happens when the striker loses his cool don't we. In a tussle with Chiellini, Suarez had his mad dog moment, taking a bite of the Italy defender's shoulder, with referee Marco Rodriguez not spotting the infraction, despite Chiellini going down and eventually showing the bite mark on his left shoulder – whether there was actually a bit or just the intention, only Chiellini and Suarez will know.
If Italy felt aggrieved, they would feel like a big chunk had been taken off them soon after with captain Godin jumping high to power home a header past Buffon off a corner in the 81st minute.
Desperate for the equaliser, Italy poured forward, but Uruguay and Suarez would not be denied.
In the second Group D game, Costa Rica ensured top spot with a 0-0 draw against England, whose vastly changed side failed to find their goalscoring mojo yet again, and with it leaving Brazil without a win and just a single point.