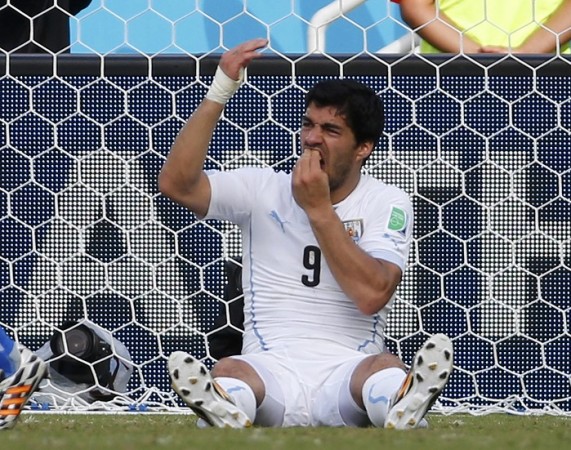 Luis Suarez was hassled, frustrated, tied down and fouled, and yet again he reacted in the most unbelievable manner, by taking a bite out of his opponent or, at best, head-butting his nemesis.
It might have been a head-butt, which is bad enough in this wonderful game, and then it might have been a bite, as Giorgio Chiellini insisted it was. If it was the latter, then Luis Suarez, plain and simple, does not deserve to play another minute of this fantastic FIFA World Cup 2014.
When on song there is no better player to watch that Suarez; even the likes of Cristiano Ronaldo and Lionel Messi sometimes fail to bring as much joy as the Uruguay and Liverpool striker does, and there cannot be bigger praise in modern football than that.
However, unlike Messi and Ronaldo, Suarez also has that dark side about him, a dark side, which time and again, not only bites his opponents, but also himself. If only he could curb his inner demon, what a player he will be – like he was for the entire last season in the English Premier League.
The Branislav Ivanovic bite put into the back of everyone's minds, Suarez won everyone over with his blistering style and penchant for ridiculously stunning goals, while almost single-handedly taking Liverpool to the Premier League title.
That Suarez was again expected to come to the fore in this World Cup – it was supposed to be his World Cup, his time to shine for Uruguay, who clearly banked on him to take them as far as possible. And after missing the first game through injury, Suarez stepped up in supreme style, putting England to the sword with two smashing goals. The Suarez that everyone had grown to love was strutting his stuff in the World Cup as well – thank god!
But then, all it takes for this temperamental talent machine is a bit of frustration – a niggly foul here, a tackle there, a block here, a goalscoring opportunity prevented there, and bam the old Suarez, who had taken a bite out of his opponent, literally, twice already in his career, is back.
If it actually was a bite or just a head-butt only Suarez and Chiellini will know – pictures show there very well might have been one – but even then it was a clear red card offence and one deserving a long ban. As one mercurial striker – Mario Balotelli -- was taken off by Italy coach Cesare Prandelli after a frustrating afternoon, the other's fuse blew.
Football is a game of emotions, and yes there are times when it is difficult to hold it all in, and Suarez is a player who thrives on his emotions. But in football, as in life, there are lines that cannot be crossed, and biting someone is something that is abhorrent and unforgivable. If this was not a football game, Suarez would have been arrested for assault for biting a person, not once, not twice, but three times.
For Suarez's sake, purely because he is such a joy to watch on the football field, Chiellini was hopefully making a mountain out of a molehill and trying to get his bête noir sent off, and there was just a head-butt which should have been punished but was nowhere near as bad as a bite.
If it was a bite, though, Suarez, who expressed a lot of remorse for his actions against Ivanovic couple of seasons ago, should be punished, and punished badly. There is no way a player, no matter how wonderful on the pitch, deserves to play at this World Cup having bitten an opponent. More's the pity, because there are few players who give more joy to football fans with his wonderful skills than Suarez.