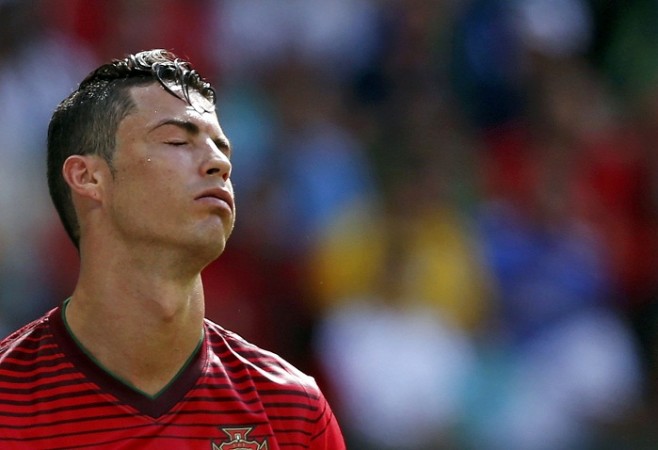 Cristiano Ronaldo has conveyed the reality about Portugal and admitted that after facing difficulties in qualifying for the World Cup, his team was never among the favourites to lift the trophy in Brazil.
The Real Madrid striker singlehandedly took Portugal to Brazil by scoring a hattrick in the playoffs second leg against Sweden at Stockholm, after they failed to top their group in the qualifiers. The 29-year-old stated that his team needs to realise its limitations and also pointed out that the injury to Fabio Coentrao and Pepe's suspension have weakened them.
"Portugal were never a favourite," Ronaldo stressed. "Even qualifying for the finals was problematic. I never thought we would be world champions. We have to be humble and recognise our limitations."
"There are things we cannot do, like running faster or having more quality. At the moment there are better teams and better players than our own. Also with the setbacks we have had here, with the suspension of Pepe and the injury to Fabio Coentrao."
Ronaldo gave Portugal a slim chance of advancing to the knockout phase when his precise cross was headed in by Silvestre Varela in injury time against the United States on Sunday but his form and fitness are still under scrutiny.
The former Manchester United striker, who recently won the Champions League with Real, said he could have taken an easy way out by opting out of the World Cup because of a knee injury but he decided to represent his country.
"It could have been a lot easier for me, I could have not come to the World Cup and I would have sat at home as a Champions League winner. Instead I answered my country's call as always," Ronaldo said.
Meanwhile, Portugal coach Paulo Bento pointed out that Ronaldo showed his fitness by playing the full 90 minutes against the US. He insisted that it is not Ronaldo's fault that Portugal are on the brink of elimination as other players have failed to step up.
"He was fit and he played 90 minutes," Bento said. "I don't think the problem with the displays lies with him. What happened has more to do with other players. The match has to be analysed from a broader perspective. I do not want to talk about individual cases and on one performance in particular.
"This is not the time to separate individual performances and the level of the team. There was not one player worse than the others. They are sad at the moment and it is not the time to criticise them. If there is somebody you want to criticise then it is me the coach."