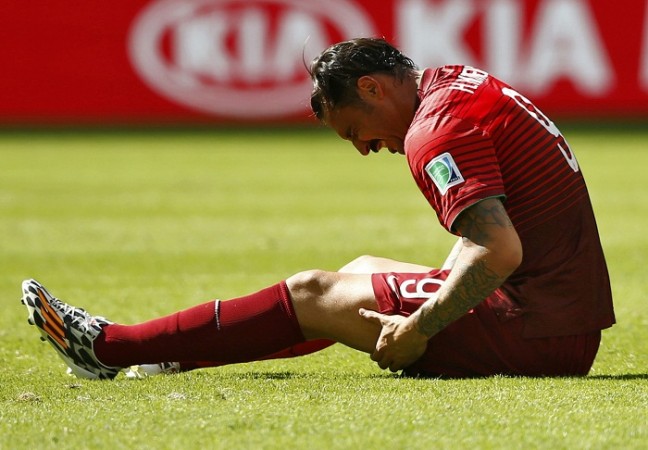 Fabio Coentrao and Hugo Almeida have been ruled out of the Portugal's remaining group fixtures because of injury concerns. The duo will be out for at least ten days after picking up injuries in the opening fixture against Germany.
"Fabio Coentrao and Hugo Almeida will be out of action for a minimum of 10 days," confirmed Portugal's team doctor, Dr Henrique Jones.
The 30-year-old Almeida picked up a muscular injury in the 28th minute and was forced to leave the field, while Coentrao suffered a hamstring pull in the 62nd minute when he was trying to control the ball and overstretched his leg.
The left-back, who was stretchered out to the dressing room and couldn't take the field afterwards, said it is unfortunate to suffer an injury so early in the tournament and feared the worst for his World Cup chances .
"I'm afraid that my World Cup has come to an end," Coentrao said. I think it's a serious injury, though I hope it's not. These things happen in our profession and, unfortunately, today it fell to me.
Coentrao, however, insisted that they can still qualify for the next round, despite losing the opening encounter.
"It's a very sad day, one of the saddest of my life. But this is just a game and despite the heavy defeat, we can still go through to the next round."
Both Coentrao and Almeida will miss at least the next two fixtures against the United States and Ghana. However, Portugal's coach Paulo Bento is hopeful that the tournament is not over for Coentrao and Almeida as the team will win next the two matches to qualify for the knockout rounds.
"We have to come up with the best solutions to any absences now," Bento said. "We have to fight for our objectives and goals. We'll be under a lot of pressure, regardless of the result of Ghana versus the USA.We're not happy, starting a tournament with a result like this makes it complicated."
Cristiano Ronaldo-led Portugal was hammered by Germany 4-0 in their opening fixture and injury woes have severely dented their World Cup hopes, as they are fourth in Group G. They will also miss central defender Pepe, who received a red card for head butting Thomas Muller, in the upcoming fixture against the US.