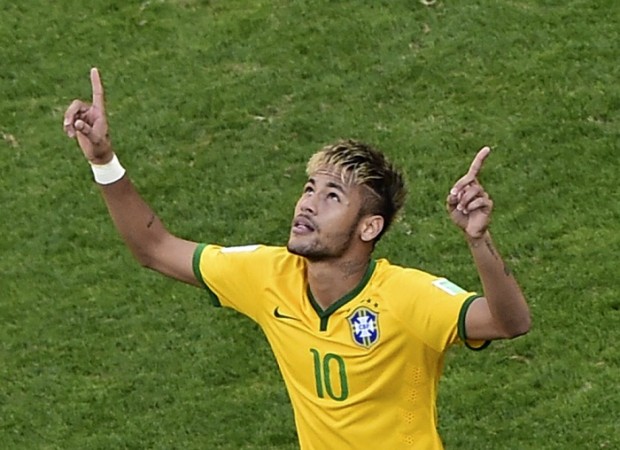 Brazil frontman Neymar has been declared fit by the Brazilian Football Confederation (CBF) to play against Colombia in the quarterfinals at the Estadio do Maracana on Saturday.
Neymar suffered injuries on the knee and thigh while playing against Chile in the Round of 16, which raised speculation that Neymar might not play in Brazil's last-eight clash against their South American neighbours.
Rodrigo Paiva, communications director of CBF informed reporters that the Barcelona striker is undergoing treatment and he might reduce involvement in the training session but is fit to play against Colombia.
"It is not a problem for the game. He is undergoing treatment for a heavy knock to the (right) knee and another lesser knock to the (left) hamstring," Paiva informed. "It might reduce his involvement in training, but there is no risk for the game."
Neymar suffered a heavy tackle from Chile midfielder Charles Aranguiz early in the match. He left the field twice for treatment but went on to play the whole match and helped Samba Boys prevail over Chile in the penalty shootout.
The 22-year-old, who has scored four goals for the hosts in the tournament so far, admitted that he was in pain in the entire match after suffering heavy impacts.
Brazil coach Luiz Felipe Scolari had said that Neymar's thigh was swollen when he entered the dressing room after the match, but vowed to do everything possible to put their star striker on the pitch for the quarterfinals encounter.
"We have four or five days to get Neymar in shape for the next match," Scolari said. "It is a big problem, his thigh is swollen. I remember when I was Portugal coach and, in the fifth minute of the game, Netherlands defender Khalid Boulahrouz broke Cristiano Ronaldo in half and he had to go off 10 minutes later.
"When I saw Neymar after the game I remembered that," he had said. "Some people say Neymar falls too easily. He fell three times but he could have fallen a lot more. He's 22 years old but he plays like a 35 year old. He's mature, he's been ready since he was 18. He was fighting, despite his physical problems."
Meanwhile, Paiva insisted that centre-back David Luiz is improving from a back trouble, which put him in doubt for the match against Chile. There are no injury concerns in the Brazil side, only midfielder Oscar is having a 'large scratch' on back of his leg.