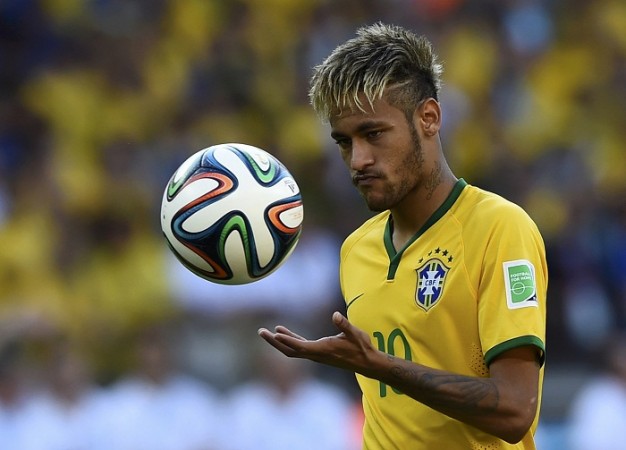 Hosts Brazil could be without talisman Neymar in the quarterfinals clash against Colombia, after the 22-year-old suffered a thigh injury against Chile in the Round of 16 match on Saturday.
Neymar faced a heavy tackle from Chile midfielder Charles Aranguiz in the fourth minute but the Barcelona forward went on to play the whole match and also scored the fifth penalty for the Samba Boys in the shootout.
Brazil coach Luiz Felipe Scolari stated they still have few days before facing Colombia and the support staff will do everything possible to put the striker on the pitch against their South American neighbours.
"We will do our best to put him on the pitch," Scolari said. "Neymar needs to be valued for what he did because it was a big effort. He played 75 minutes of the match after a strong hit on the thigh and we couldn't understand how somebody hits with that strength and gets no card."
"We need to evaluate it but we should have three, four or five days to try and make sure he can play the next game."
The former Santos star, who remained on the pitch for the whole 120 minutes despite facing the heavy tackle and suffering from cramps, admitted that the last 16 win over Chile was an emotional experience for him.
"We really suffered. It was pure emotion," Neymar said, after the victory. "My tears after the game were of happiness. We know that it was not one of our best matches but the desire to win, and get through to the next round, was huge. It was the most I have ever suffered in football."
"Today I had everything. I took a knock, I had cramp. Now all I want to do is rest. I felt no fear. Fear removes the desire to win. We knew that we would be playing a great team, but there was no fear."
Neymar has scored four goals for the men in yellow so far in the World Cup and played a key role in Brazil's progress to the knockout rounds. His absence will be major blow for the five-time champions who failed to impress against Chile.
Meanwhile, Brazil will have to field the out-of-form Paulinho, who was dropped for Chile clash, against Colombia on Friday because fellow midfielder Luiz Gustavo received his second yellow card of the tournament.