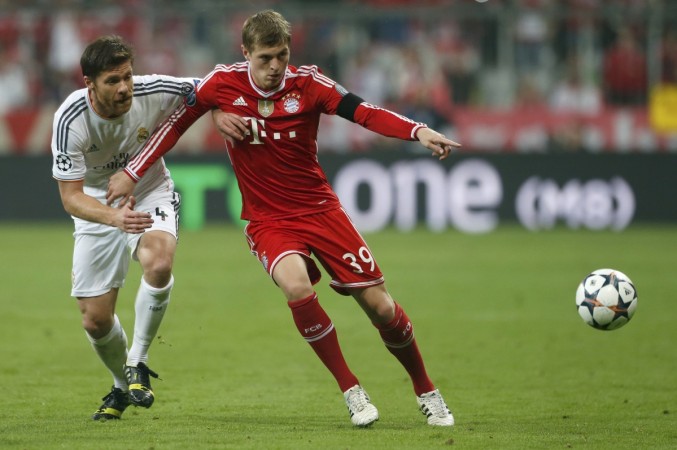 Toni Kroos is confident that the determined and efficient Germany has an edge over France as both sides prepare to take on each other in the quarterfinal of the 2014 World Cup on Friday.
"France have a very strong midfield but if all of us deliver our best performance, then I believe we are the better team. But we have to show that. It's going to be very important for us to have possession and to win the duels. Then, I believe we will really have a good opportunity to win," The Guardian quoted Kroos as saying.
The Germany midfielder seems gung-ho despite several members of his side not appearing to be in the pink of health. Seven players of the squad reportedly had sore throats, and there was the concern that these players could be running a temperature in the future as defender Matt Hummels found out. The defender had to sit out for the Round of 16 win over Algeria.
The good news is despite the sore throats, all were fit to train, except injured defender Shkodran Mustafi. Hummels is also set to return to the squad.
Germany ran out late winners against a tough Algerian outfit 2-1 in extra time. Many deemed the win to be unconvincing and as result, the heat has been turned up more on the Germans.
"Pressure is nothing new for us. It is there because we are good players and we have a top team. The expectations are high. Everybody wants us to win and anything else would be a failure. We have shown we can cope," Kroos said.
Kroos' salvo comes after Les Bleus midfielder Paul Pogba stated that France was not afraid of anybody. Pogba went as far as to question the need to fear Germany.
"Why should we be afraid of Germany? We are not afraid of anyone. We are the national team of France. We will play whoever we get and play to win. We will always give everything," Pogba stressed.
Pogba is not the only Frenchman to make known that his side is in no way anxious about facing Germany. France coach Didier Deschamps, who as a player led France to their first World Cup triumph in 1998, supported his views.
"There is no apprehension or fear. There is no reason for us to feel any. Germany are a solid side with lots of experience of this level but this game will be a pleasure for us and we are preparing ourselves as well as possible for it," Deschamps told a press conference in Rio de Janeiro.