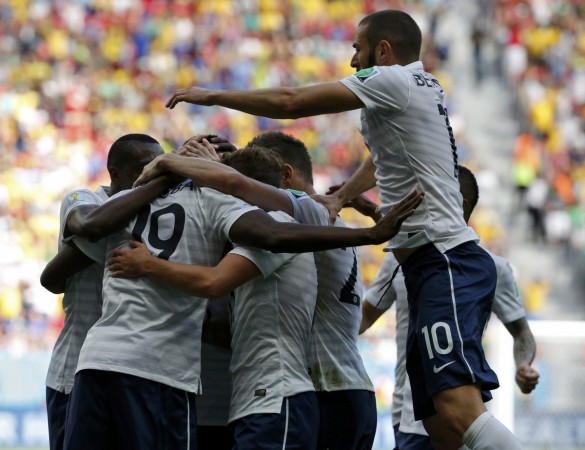 Paul Pogba has made it clear that France are not afraid of anyone as Les Bleus prepare to take on Germany in the World Cup quarterfinal on Friday.
A steely and free-flowing French outfit against a resilient and efficient German side is a mouth-watering clash.
Didier Deschamps' men won a place in the last eight after a 2-0 win over Nigeria at the Estadio Mane Garrincha on Monday. After Nigeria had held out for what seemed like eternity, Pogba netted the first goal, while Joseph Yobo scored an own goal late on.
"Why should we be afraid of Germany? We are not afraid of anyone. We are the national team of France. We will play whoever we get and play to win. We will always give everything," Goal.com quoted Pogba as saying.
The Juventus midfielder pointed out that he would love an encounter between Brazil and France in the semifinal, if both teams progress.
"Of course we would love to play Brazil. I remember watching France-Brazil when I was a kid in 1998. There's a nice rivalry. It would be great to meet them again. But we have to take things one step at a time."
Pogba's excellent outing against the Super Eagles earned him the Man of the Match. The 21-year-old was more than happy with his performance in the win over the Nigerians as he hoped any worries people had about Les Bleus would have been put to rest after their progress to the quarterfinal.
"I am really happy that we won. I was man of the match, but it was a team effort. I wouldn't have been here without my team-mates. This is one of the proudest moments of my life," the former Manchester United man said.
The last time France and Germany met in the World Cup was way back in 1986, when the latter won 2-0. In 1982, the two sides had met in the semifinal, where the Germans came from behind to steal a victory over the French in extra time. An unsavoury incident occurred in this game when Germany goalkeeper Toni Schumacher injured France's Patrick Battiston severely, while going for the ball. Battison later slipped into a coma.