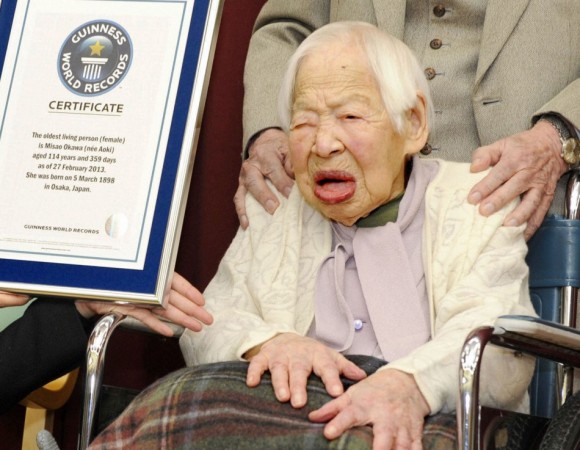 Feroz-ud-Din Mir, a Kashmiri national, has claimed that he is the world's oldest living person at 141.
Mir, who hails from Uri town in Baramulla district of Kashmir, has reportedly produced a government-issued birth certificate which shows that he was born on 10 March, 1872, according to reports.
Guinness World Records are believed to be investigating Mir's claims. If the report is proven true than Mir would be 26 years older than Japanese woman Misao Okawa, who currently holds the record for world's oldest living person.
Mir, who worked as a fruit and nut trader in his early years, has outlived four wives and has more than 10 children. If Mir's claim turns out to be genuine, than it would make his current wife Misra more than 60 years younger than him, Mirror reported.
"His experience of life is cruel. He used to tell me stories of an earthquake which ­happened in the late 1800s when he was on a trader trip to Karachi. He saved many lives. He was witness to some of the most significant events in the past century," Misra said.
Mir is still capable of speech and even walking, despite his claimed age. His eyesight has almost faded, but he still manages to identify his family members and relatives.
Mir was the eldest son in the family, Mir's grandson Abdul Rashid told Kashmir Life. Till the beginning of the 19th century Mir lived in Pakistan,where he married to a local Punjabi girl in 1890. After the death of his first wife Mir moved to India.
"There were no boundaries between India and Pakistan at that time. It was easy to go to Muzaffarbad than to Srinagar. I used to work with a business family in Karachi who would buy nuts from me. I would take nuts from Kashmir which was very famous in Karachi," Mir said.
"There was no concept of electricity and other comforts. As life started becoming easy, people couldn't live easily with each other."