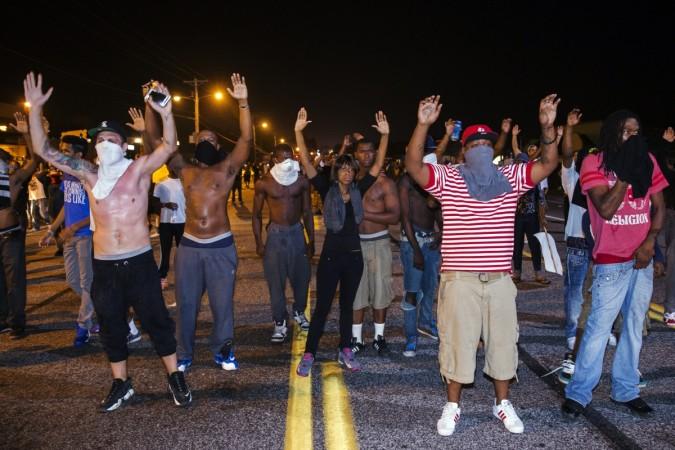 In a development that is bound to bring more angry protestors on to the streets of Ferguson against the killing of unarmed black teenager Michael Brown by the police, the autopsy results have revealed that 18-year-old was shot at least six times, twice in the head.
Brown was shot to death by police officer Darren Wilson in the Missouri city on 9 August.
"There were at least six entry wounds, there might have been seven, but we'll have to correlate that with what was found in the first autopsy," Dr Michael Baden, who conducted a second autopsy after the St. Louis County Medical Examiner's office conducted the first, told The New York Times.
Baden said he conducted the autopsy pro bono on the request of Brown's family. He added that all shots were fired when Brown was facing the police officer. The teenager was struck once on the top of his head, once in the forehead and four times on the right arm, with some shots going through his arm and entering his chest and lungs. However, it was the shot to the head that proved fatal, revealed Baden, a former chief medical examiner for New York.
He further stated that the shots might not have been fired from close range as there was no gunpowder on the teen's body but he stressed it could be refuted if the powder was found on his clothes as Baden has not been given access to them.
This is understood to be the first crucial information to be made public on Brown's death.
Brown's death had led to week-long protests in Ferguson, and what further aggravated the situation was the police's disproportionate use of force on protestors and even on journalists.
Opaque information on the matter further fuelled emotions.
"People have been asking: How many times was he shot? This information could have been released on Day 1," pointed out Baden, who has reviewed the autopsies of both President John F Kennedy and the Rev. Dr Martin Luther King Jr.
The autopsy results have further lent to arguments about police atrocities, especially on racial grounds.
"The sheer number of bullets and the way they were scattered all over his body showed this police officer had a brazen disregard for the very people he was supposed to protect in that community," Benjamin L Crump, a lawyer for Brown's family told NYT.
While protestors claimed that the incident was a case of racial profiling, the police have said that there was a 'physical struggle' between Brown and officer Wilson, when the latter stopped the teenager for an apparent case of jaywalking.
The police later revealed a video to show that Brown had robbed a liquor store.