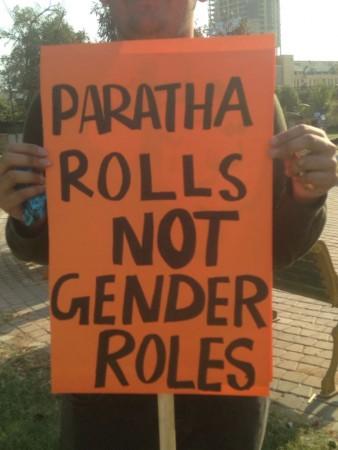 It's exactly a month since Asna, a second-year student at Habib University, decided to stand apart from the crowd at the Aurat March 2018 in Karachi, organized on the occasion of International Women's Day.
What Asna did at the Aurat March seems to have resonated deeply in Pakistan, a country where women — including celebrities like Qandeel Baloch — are killed by the patriarchs of the family in the name of saving "honor" and girls like Malala Yousafzai are attacked for advocating female education.
Asna seems to have started a movement with a simple four-word Urdu sign, which said on the day of the Aurat March: "Khud Khana Garam Karlo." Translation: Warm your own food.
Still wanna say that the passive aggressive "khud khana garam karlo" slogan is a nonissue raised by crazy feminazis?

Tell me more about how domestic abuse, violently imposing gender roles and underlying patriarchal entitlement are not real issues. pic.twitter.com/1cOO3YlBp8

— Maryam (@maryamful) March 14, 2018
Idea behind the placard at Aurat March
Pakistani daily Dawn got Asna to write what made her come up with the simple slogan, and she had an equally simple yet powerful explanation.
"When we teach boys how to brush their teeth and take a shower, why can't we also teach them how to clean their room and cook?" she asked in the article she wrote for the daily.
"Too many a times, I have heard the defenders of the patriarchy argue, 'Wo chai kyun banaega? Wo larka hai!' (Why would he make tea? He is a boy!) and 'Uski khair hai? Wo larka hai!' (He's fine, he's a boy!) [sic]," she wrote as to what spurred her to make the placard.
"When we teach boys how to brush their teeth and take a shower, why can't we also teach them how to clean their room and cook?

"Just like how young girls are told to join their mothers in kitchen to prepare food and wash dishes, and help in other chores of the house, boys should also be made to do the same.

"If men take up more and more domestic responsibility, children will learn that these tasks are not naturally gendered."
Food for thought or hot mess?
The slogan has definitely caught people's fancy with social media sitting on both sides of the fence.
Here are some that think men learning to warm their own food is a good idea:
Men: maa ki gali, behen ki gali, rape jokes, anti-female jokes.

Female: "khud khana garam karlo"

Men: *triggered*, feminazi blah blah.

— Arslan Chaudhry (@ArsiChaudhry17) March 18, 2018
Meanwhile, here are those that think Asna's stand is untenable.
S: Khud khana garam karlo.
H: Khud puncture lagwalo.
S: You sexist, puncture is a petty thing.
H: So is khana garam.
S: Still you don't khana garam?
H: Still you don't puncture lagwao?
S: See men triggered over small point.
H: And you trggrd over small answer?
S: Misogynist.

— Jibran T. Siddiqui (@jibransiddiqui) March 16, 2018
And then there were those who were just having some fun:
What do you think? Tell us in the comments below.