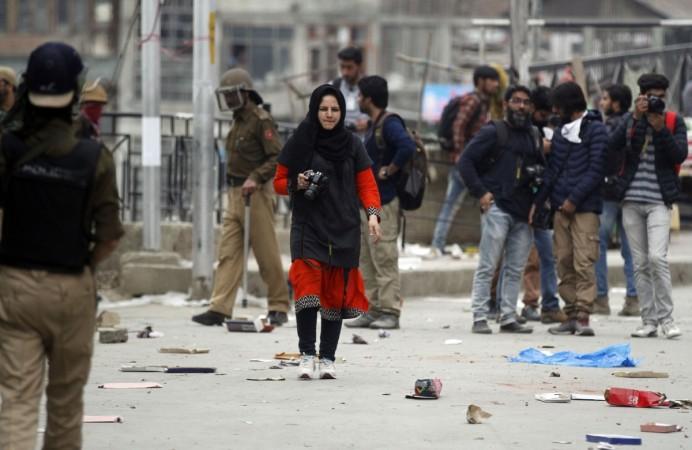 An aspiring female photojournalist in Jammu and Kashmir has been labelled as a "mukhbir" (informer) for a picture that shows her taking pictures at an "encounter" site.
Masrat Zahra, who is a student at the Central University of Kashmir, recently shared the photo on her Facebook wall with the caption saying, "Gun vs Camera. At a gun battle site. when you got shoot by your colleagues camera [sic]." Some security personnel were also seen in the frame.
Soon, some people started sharing the picture and labelled her as a "mukhbir". Many of them even used highly abusive language while sharing it, and the defaming posts went viral on social media.
"The picture is from South Kashmir Sophian district. Some militants were trapped in that location, and an encounter was under operation that time. Why would any informer upload one's own image on Facebook? Secondly, I wasn't alone there. It was obvious that I was with another person, who clicked the picture. Moreover, I was injured there, and I had suffered shoulder dislocation doing my work," Masrat told International Business Times India.
Masrat said that she got to know about such abusive posts being made when someone posted a screenshot of the same in her comments section. The young girl further said that the photojournalist association refused to help her as she is not an accredited journalist.
"I texted the person, who watermarked my picture and labelled me mukhbir. I saw 2-3 pages sharing the post with abusive language. I spoke to photojournalist association president, who told me that I am not an accredited journalist and so they cannot help me. If I want to file case against anyone, I will have to do it myself," she said.
She also said that some journalists supported her and condemned the incident on social media, but none came forward on the ground level.
"It's done maybe because some don't like me working on the field. So, they labelled me as mukhbir, thinking that this will make me scared or demotivated. Many girls tried to pursue this profession here, but because of all these issues, none could give it as much time as I give it," she said.
"I won't stop this work. In fact, this incident has given me encouragement. I want more women to join this field, and I don't want any girl, who takes me as an inspiration, to feel scared about it. Currently, I am the only female photojournalist working in Kashmir," Masrat added.
One of Masrat's teacher, Shahnaz Bashir, extended support to her with a Facebook post strongly condemning the hate posts.