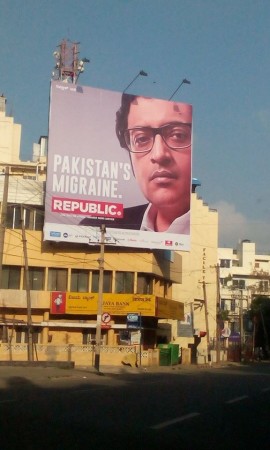 A lot is being said and written about Republic TV, the latest venture that the noisy television journalist, Arnab Goswami, is heading. It's not even 10 days and the channel has already picked leaders in connection with cases like corruption and mysterious death. However, though nobody has yet confirmed whether the 'offenders' the new channel is seen picking belong to the non-BJP camp by an accident but the issue is also being debate at length.
But amid all the noise [besides the political, Republic TV has also been accused of resorting to unethical distribution tactics by the News Broadcasters Association] it is pertinent to ask one question: How much news literate are we that our opinions are being shaped by channels like Republic TV which is transgressing the minimal norms of journalism in the name of debate and arguments?
News literacy: A must-needed skill for today's news audience
News literacy is a very critical concept in today's times when even news is largely an information-driven item, more than a knowledge-driven one. Under the wraps of entertainment and cheap presentation, news today is easily vulnerable to manipulation and since the scope for creating exclusivity in the realm of news is very, very limited and also the time frame within which to present it lapses very fast, the merchants of journalism think out unique ways to constantly feed the users.
Analyses, opinions and debates are those unique ways in presentation of news and even though they dilute the basic norm of keeping journalism an objective genre, they have come to dominate the news field by bringing in an angle of exclusivity.
For each person's opinion is an exclusive one and the channels are turning increasingly subjective to make more room for that much-needed exclusivity. In a society which is fast democratising vertically, this is anything but a normal procedure.
As journalism has changed, new dangers have emerged as well
Now, there lies a danger too. Even if opinions do make a difference in today's journalism and it is no longer sustainable to just depend on traditional 'reporting to desk' model for a flourishing business [the print media is dying because of this apart from the time lag factor], misdirecting 'opinions' just to make it more noisy and keep the opponents behind and also perhaps to please the influential make it a hazardous business.
It not only fools the consumers (yes viewers have been replaced today by consumers) but also reduces the very credibility of journalism to ashes. Opinions are acceptable as long as they do not dare to emerge as an alternative to State authority. The anchors of the current television channels are doing precisely that.
These bombastic channels know how easily Indian audience can be taken for a ride
And they are fooling people at will because most of the consumers are not news literate. In an environment where biased channels are constantly bombarding us with views that lack reasoning with an implicit intention of imposing them on us to serve the State's interest (who knows), not being a news literate turns the consumer into a pawn – eventually in the hand of the State. This disturbs the stability of the society, something the so-called fourth pillar of democracy is not meant to do.
Just as the advent of computers forced us to befriend them (even if the communists did not like it) for our own survival, it is also very essential for us to get ourselves news literate if we want to give sanity and social stability a chance.
Debating Goswami's debates is not the solution
To be news literate is not about criticising what Mr Goswami shouts at in his show today. It is about asking: What's the topic he is shouting over? Is it worth to understand it at all? If not, why don't we check with the other side whether this noise is at all justified?
Questioning our own brains; our own common sense
Indians like to debate but they never question themselves and that turns the debates clash of egos. News literacy sharpens our critical thinking and boosts the capacity to apply common sense. While seeing the new channel blasting a Congress MP over the mysterious death of his wife three years ago, did we ask ourselves: Where are the limits of this channel? Is it an equivalent to the State now that it itself can make 'justice' on the spot?
Also on the question of Kashmir, what the fuelling opinions presented by anchors achieve apart from leaving the audience disturbed? Goswami, we saw, was asking a panellist whether he is a 'nationalist'.
Even if one is not a nationalist, what difference does it make? Are the man's panellists not entitled to their own opinions? It's a dangerous game going on there to terminate the future of journalism, even of its new version which thrives on subjectivity.
Many of us must have clapped while witnessing the negative journalism which is presented in the garb of shallow entertainment. Next time, will we take a pause in the middle of the mindless drama and make our head work to question its justification?