Roger Federer's coach Severin Luthi believes the Swiss great is not fretting over the possibility of Rafael Nadal overtaking him on the list of players with the most number of Grand Slam titles.
The 42-year-old Swiss tactician insisted that worrying about Nadal wouldn't help Federer, who is in the twilight of his decorated career.
Federer's failure in his title defence at Wimbledon last month meant that he was not able to add to his tally of 20 Grand Slam titles. The 36-year-old has been showing glimpses of his vintage self ever since he returned from a long injury layoff in 2017, adding three major crowns to his famous trophy cabinet.
Nadal had an opportunity to close out on the lead when he reached the semi-final of the grass-court major but missed out after losing to Novak Djokovic. The Spanish ace has 17 Grand Slam titles with the latest being the 11th French Open crown that he had won earlier this year.
"You have to look at yourself. Roger is unbelievably relaxed in this way. He doesn't say: 'it's better if Rafa doesn't win, otherwise he will get closer to me.' Thinking like this wouldn't help," Luthi was quoted as saying by Tennis World USA during the recently-concluded Swiss Open.
"Is he really so much relaxed? 'Much more relaxed than what it can seem. But he also knows to be serious when he needs to be focused and stuff."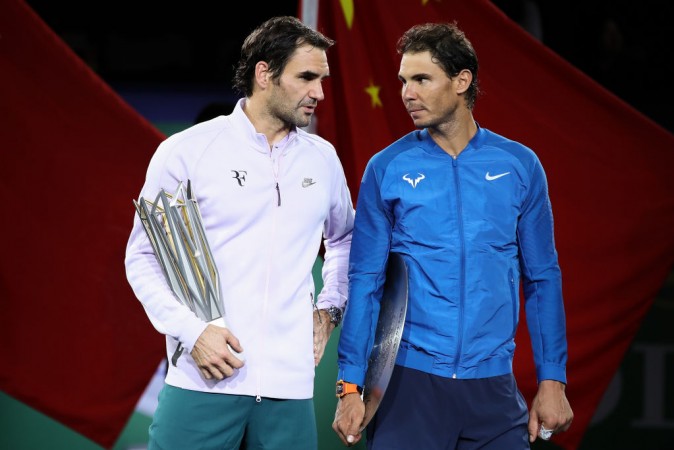 Federer and Nadal have been dominating the tour even since they came back from injuries. While the two shared all four major titles between them in 2017, they were also successful in Australian and French Open title defences, respectively in the ongoing season.
With Djokovic regaining peak form and capturing the Wimbledon title, the onus is on the two seasoned campaigners to get back to winning ways.
Meanwhile, Luthi backed Federer's decision to skip the upcoming ATP Masters 1000 tournament — Rogers Cup in Montreal, which is one of the two high-profile tournaments in the lead up to US Open, starting August 27.
'Federer is fresh, motivated and inspired'
Federer had said that he made that decision as part of the ongoing strategy to avoid injuries and prolong his career. Luthi believes that Federer has made the right move, as a man with his experience doesn't need a lot of match practice ahead of a major tournament.
"Would it be an advantage for him to play two tournaments prior to the US Open? For me, nope. Yeah, someone will say: 'And if he loses in the Cincinnati first round?' But the most important thing is that he is fresh, motivated and inspired," Luthi said.
"At 37 and with his experience, he doesn't need 25 tournaments before a Major."
"In certain circumstances, it would have been more ideal to skip Stuttgart before Wimbledon, but it's easy to say it after. I don't think it would be an advantage to play Toronto and Cincinnati, at all."
Federer, the world number two, is expected to return to action at Cincinnati Masters, starting August 11.