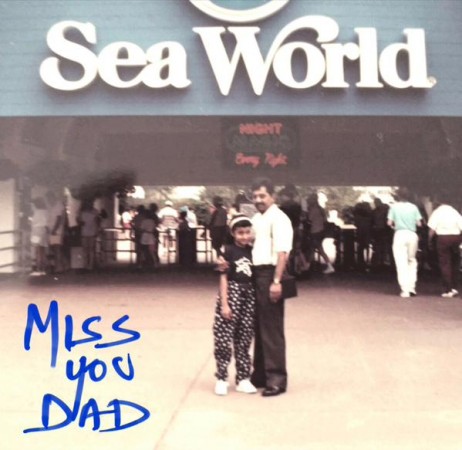 A host of south Indian film stars shared their wishes and photographs with their dads on the eve of Father's Day, observed across the world on Sunday, 21 June.
Father's Day is a celebration honouring fathers and celebrating fatherhood, paternal bonds and the influence of fathers in society. Southern celebs, such as Dhanush, Vishnu Manchu, Sundeep Kishan, Sumanth, Allu Sirish, Trisha, Shruti Haasan, Pranitha, Kriti Kharbanda, Sneha Ullal, Charmme Kaur, Vimala Raman, Hamsa Nandini, Achu and others wished their fathers on the occasion.
Here are some pictures and Twitter posts of these southern cine stars.
Dhanush: Father's Day and linga's birthday :) what a special special day :) thank u guys 4 wishing linga.He is indeed blessed 2 receive ur blessings
Vishnu Manchu: #HappyFathersDay to the worlds greatest dad @themohanbabu. I am what I am cause of him. If am 10% like him, I would be a great Father.
Shruti Haasan: Happy Father's Day Bapuji !! You make me so proud to be your daughter with your work your honesty and your heart ! Love you Bapu!!
Lakshmi Manchu: Happy Fathers Day Nana, Andy and Vishnu. You are the best daddies. Love u dearly. https://instagram.com/p/4LmkMFElnB/
Akhil Akkineni: Happy Father's Day to my most amazing hero and dad @iamnagarjuna and to all the dads out there!
Sudheer Babu: Nanna vunaru emyina ayithe ani cinemalu loki dhairyam ga vacha.Thank you nanna meeru na hero.happy fathers day.☺
Rahul Ravindran: I have unshakable love for my dad.. A man who I subconsciously and knowingly tried to model myself after in many ways. I tell him how much.. ...I love him every single day. And more importantly, I tell him directly. These 'days' start putting pressure on you to declare it... Publicly too. No harm if one feels like doing it. Great then!
Actor Vemal: Happy #father's day to all
Mumait Khan: A true man is the one who stands the test of time,loves without return and gives without getting. I... https://instagram.com/p/4LroDEQbNW/
Nisha Aggarwal: Happy Father's Day!! ❤️ https://instagram.com/p/4LcjXVhsLq/
Naa fav hero Evaru ani adiginavalaki,here u go..love you dad..thank you for being my everything..Happy Fathers Day :) pic.twitter.com/YVhopUHKcd

— Sundeep Kishan (@sundeepkishan) June 21, 2015
Here's to ANR (my father in spirit who raised me, RIP) & my biological father Surendra. #HappyFathersDay pic.twitter.com/3pyjCAnboR — Sumanth (@iSumanth) June 21, 2015
The most underrated love is that of the Father. #HappyFathersDay to my Dad & all fathers out there! pic.twitter.com/BPinvNbbbC

— Allu Sirish (@AlluSirish) June 21, 2015
Happy Fathers Day❤️ pic.twitter.com/EyUeFmbDTu — Trisha Krishnan (@trishtrashers) June 21, 2015
"@chetandhadwe: @pranitasubhash Happy Father's Day..!!Wishes and regards to ur father..God bless..!! pic.twitter.com/jPXw4rEhSc"

— Pranitha (@pranitasubhash) June 21, 2015
"@KritiKFC: Happy Father's Day @kriti_official & fan's :) #BestDad pic.twitter.com/OLg1wzo15U" thank u! — Kriti Kharbanda (@kriti_official) June 21, 2015
Its fathers day,do something nice for him. pic.twitter.com/xTrhMseZXq

— sneha ullal (@iamsnehaullal) June 20, 2015
Happy Father's Day Yummy food at Chinese Pavilion pic.twitter.com/QtbGrTYpJ6 — CHARMME KAUR (@Charmmeofficial) June 21, 2015
#HappyFathersDay Daddy Thanku 4 everything ur a champion & my hero Love u so much god bless u and all the #dads pic.twitter.com/y8ujzrkxff

— Vimala Raman (@Vimraman) June 21, 2015
That's how you taught me how to fly. Love you Baba. #HappyFathersDay pic.twitter.com/CvYLnSrYY9 — Hamsa Nandini (@ihamsanandini) June 21, 2015
#FathersDay . U have always been an inspiration to me and my guru . I love you Appa . U are the best . pic.twitter.com/MDVoIqm0ky

— achu (@achutweeets) June 21, 2015
Happy Father's Day to the best Appa!! Your constant support and belief in me means the world ❤️ pic.twitter.com/lz54hHmpss

— Vidyu (@VidyuRaman) June 21, 2015