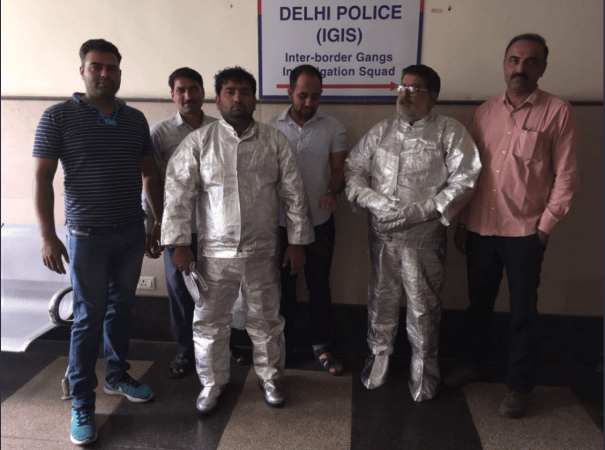 It looks like the rice puller scam is back to haunt people. In an incident that took place in Delhi, a father-son duo reportedly duped a garments businessman of Rs 1.43 crore, after asking him to invest in a device that NASA apparently "required". The duo, identified as Virender Mohan Brar, 56, and his 30-year-old son, Nitin Mohan, has now been arrested.
The duo is said to have shown a copper plate to the businessman, identified as Narender, and told him that the "rice puller" could be sold to NASA for about Rs 37,500 crore. They told him that if it tested positive for a few special properties, they could arrange for NASA to buy it and Narender could make huge money out of it.
Brar and Mohan then kept telling Narender that a few tests would have to be carried out and the businessman shelled out Rs 87.2 lakh for these tests to be conducted, reported Times Now. The money was reportedly also meant to buy a few radiation suits to be worn during the tests and to import a few chemicals for the same.
While the tests were scheduled to take place immediately, Brar and Mohan reportedly kept delaying it with some excuse or the other. The duo pretended that they had a genuine company and their associates also urged Narender to seal the deal or they would have to find another client.
The victim then signed an agreement with Brar and Mohan and paid an additional Rs 51 lakh so that the tests and other requirements could be completed. However, when the tests continued to be postponed, Narender got suspicious. He also found out that the so-called scientists were also a part of the plan and were working with the fraudsters for Rs 20,000.
Dwarka's Inter-border Gangs Investigation Squad arrests father & son for duping Rs.1.43 crores from a garment exporter on pretext of selling & testing a machine called 'Rice Puller', they claimed they'll arrange sale of 'Rice Puller' to space agencies for Rs. 37,500 cr. #Delhi pic.twitter.com/ZQgWpq3UEZ

— ANI (@ANI) May 8, 2018
Narender then complained about the matter to the police after which the duo was arrested.
What is a ricepuller?
Fraudsters, in the past, have said that "ricepuller" was an ancient apparatus that has special physical qualities. They explain that the "device" is made up of copper and iridium and are so efficient that it is used by organizations such as the NASA, DRDO and even ISRO.
"Cheats take a copper plate or utensil and coat it with liquid magnet and then fill some boiled rice with small iron wires and fool the victim by pulling the iron-clad rice grain with the magnet coated copper article," India Today quoted Alok Kumar, joint commissioner of police, crime branch.
The cheats are also often known to tell victims that the metal device is extremely rare. They claim that the metal is struck by thunderbolt in the hills of Uttarakhand, which in turn gives it unique powers.
Speaking of the device and how it has no purpose, Naveen Gaur, an associate professor of physics at Delhi University's Dyal Singh College told Hindustan Times: "The 'rice puller' is only a common metal plate that is useless for scientists in every way."