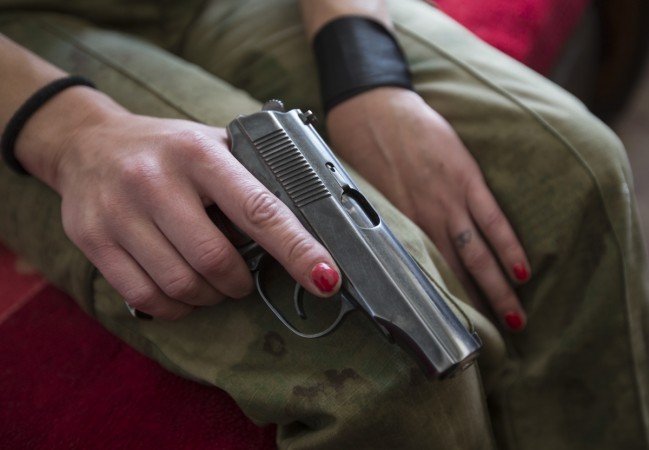 Father of the deceased student Gauthami said he is shocked to learn that his daughter has been killed by office assistant Mahesh, whom he entrusted with her responsibility.
Seventeen-year-old Gauthami, a student at Bengaluru's Pragathi PU College, was allegedly shot dead by Mahesh on Tuesday night in her hostel room.
"I can't believe that Mahesh has killed her. He was a very good person, my daughter never complained about him. I don't know what made him kill my daughter," Bangalore Mirror quoted the father T Ramesh as saying.
"I had full faith in Mahesh, he was a very good person, a kind human being, and he never got irritated by our calls. Hence I had made him responsible for my daughter as he was in college all the time. He used to get something for Gauthami whenever she wanted to buy something," said Ramesh, who is a resident of Pavagada in Tumkuru.
Reports suggested even parents of several other students had faith in Mahesh as he would let them talk to their daughters on his personal mobile phone as the students were reportedly not allowed to keep phones at the hostel.
Like every day, Ramesh had tried to contact Mahesh, but he did not take the calls, following which Gauthami's father called another staff and requested to get his daughter on the phone.
At around 10:30pm, just three hours after speaking to her father, Gauthami was shot dead by the office attendant with a 9mm caliber country-made pistol.
"The attender fired four rounds, of which three hit their targets...," Bengaluru Police Commissioner MN Reddi said.
After killing Gauthami, Mahesh went to the other room where her friend Shirisha was sleeping and fired shots at her as well. However, she survived the attack with injuries.
"He shot her twice at point blank range with a country-made pistol before walking into the adjacent room where Shirisha was sleeping. He knocked on the door and tried to shoot at her when she opened. However, the pistol did not fire and he reloaded the weapon and fired at her. The bullet brushed the left side of her face, and she collapsed," The Hindu quoted Reddi as saying.
After shooting both the girls, Mahesh fled the campus and went to his sister's house in Narayanapura from where he was arrested on Wednesday afternoon.
Citing possible reasons behind the incident, police said that Mahesh used to boss around the girls at the hostel and "always imposed rules and regulations" on them, which offended the students as he was just a caretaker and not a warden of the hostel.
Something similar is said to have happened with Gauthami and Shirisha. The Hindu reports that Mahesh had frequent verbal fights with both the girls and hence they had complained about him to the principal, while another report suggested that Gauthami had rejected Mahesh's gift and humiliated him in public for his advance.
The police are, however, investigating the case to find out the real motive behind the murder and are also awaiting Shirisha's statement.
"We are yet to record Shirisha's statements as she is not in a position to speak. When doctors give us the go-ahead, we will talk to her at once. Meanwhile, we are investigating the case from all possible angles," police said.
Meanwhile, the investigators are trying to track the cartel from which Mahesh bought the pistol. They have also arrested the chairman of the Pragathi PU college, Soma Singh, for not abiding by the rules imposed by the Commissioner in view of the safety of the students in colleges and schools.
Mahesh, 38, was working in the college for the last two years and staying within the college campus. The college authorities had allegedly missed his background check.