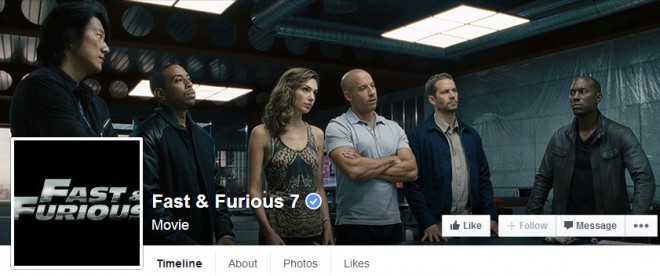 Vin Diesel recently shared a new photo on his Facebook page of what looks like a still from "Fast & Furious 7."
Dressed in a white unbuttoned shirt and matching trousers, the actor can be seen flaunting his character Dominic Toretto's famous cross necklace. He appears to be standing beside a car with palm trees in the background. It looks like the shot has been taken in Abu Dhabi, where the principal photography of "Fast & Furious 7" took place though the actor did not reveal anything about the location.
The picture has already received 2,756 882 likes and has been shared 45,927 times. The actor did not caption the picture, however, his fans left a plethora of comments praising his looks. The 47-year-old actor also shared another still from the upcoming "Fast & Furious'" instalment where he is seen dressed in a mechanic costume. He is wearing the cross necklace and appears to be in a pensive mood. His character's name Toretto is etched on the right side of his shirt.
"Fast & Furious 7" will begin from where "Fast & Furious 6" left off. The film will see Toretto going in the search of Han's killer, who was killed "F&F6." Jason Statham will be seen playing the main villain. He will play Owen Shaw's brother Ian Shaw. Toretto and his gang killed Owen in "F&F6". Ian will take revenge of his brother's death.
This will be the first time Statham will play a part in the "Fast & Furious" franchise. The actor has great acting chops and Diesel is all praise for him.
"He's incredible. The amount of work that we did for our third act fight sequence, I was just so happy that he was just so gung ho about it and so dedicated," said the actor at the "Fast & Furious 7" trailer launch, reported Eonline.
Meanwhile, late actor Paul Walker will be seen in the role of Brian O' Connor. In the film's trailer, he was seen performing a slew of stunts and it is predicted that his character will retire in the film.
The actor met with an accident while coming from a charity event. His brothers Cody and Caleb Walker completed his remaining scenes. Diesel misses Paul dearly and has expressed his love for his co-star and friend in a slew of interviews and Facebook posts.
"He always knew I would fight for him... whether it was to protect his deal or to protect his integrity... and he knew that if it made for a better film, I was going to do whatever it took... it is why together, we won best duo... twice, 12 years apart," wrote the actor in one of his previous post.