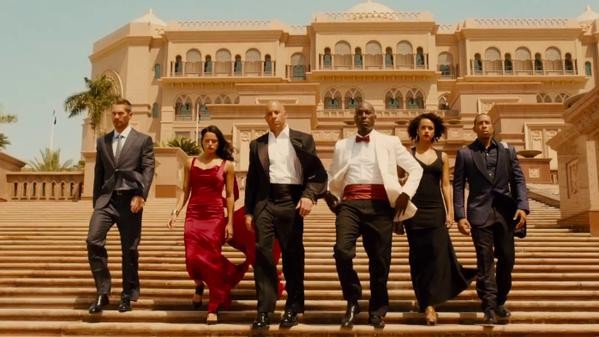 Director James Wan's Hollywood movie "Fast and Furious 7" was released in theatres on 2 April and has received positive reviews and impressive ratings from Indian critics, who say the movie is a touching tribute to late actor Paul Walker.
Written by Chris Morgan and Gary Scott Thompson, the seventh installment in the "Fast and Furious film series is all about how Deckard Shaw seeks revenge against Dominic Toretto and his family for the death of his brother. The movie has a perfect script, which is swift and fast-paced. Besides being a thriller, "Furious 7" redefines popcorn entertainment.
"Fast and Furious 7" stars Vin Diesel, Paul Walker, Dwayne Johnson, Michelle Rodriguez, Jordana Brewster, Tyrese Gibson, Ludacris, Lucas Black and Jason Statham in the lead roles. The movie has Brian Tyler's music and Stephen F Windon and Marc Spicer's cinematography.
The movie has style and substance and it is a good escapist flick that leaves the audience awe-struck. The lead actor's performances, perfect script, stunning action sequences, James Wan's high-octane direction, superb camera work, razor-sharp editing and spell-binding car chases are the main highlights of "Fast and Furious 7", say Indian film critics.
Here, we bring you their verdict on "Fast and Furious 7":
The extreme action and explosions in the film come interspersed with emotional moments. A funeral scene where the crew is bidding goodbye to a fallen comrade is especially moving given Walker's death. The send-off to Walker's character is so subtle and real that it leaves your eyes moist. It just feels natural that this glass-shattering, asphalt-breaking film should end so poignantly. Because after cars have been smashed and big-ticket weaponry unleashed, it is really about family, friendship and loss.
Furious 7 has a humane angle. The touching tribute to Walker puts the entire series into perspective and will make many eyes teary. The film's flaws suddenly vanish when you realise that if there is another film in this series, it just wouldn't be the same. RIP Paul.
At its most basic, a Fast and Furious movie is as weird and contagious as—and more large-hearted than—a Top Gear episode. It's about driving fast and wrecking beautiful cars, but it's also about comfort and familiarity. It's nice to know that Vin Diesel can drive off a cliff, or jump from one skyscraper to another, without sustaining any lasting physical damage. And it's nice to see that after giving Walker a moving send-off, the last scene teases the idea of a sequel. Walker made his name with this franchise, and it's likely that he'd have wanted his fast-driving family to go on living their lives the way they're used to.
Fast and Furious 7 ends with Dominic taking the straight road, as Brian's car takes another route. The excellent symbolism and the subtle yet heartfelt tribute to Paul Walker will remain till the end of time. We give Fast and Furious 7 a rating of 4 stars out of 5, and hope that Vin Diesel's dream of another movie (Fast and Furious 8) set in New York realises soon!