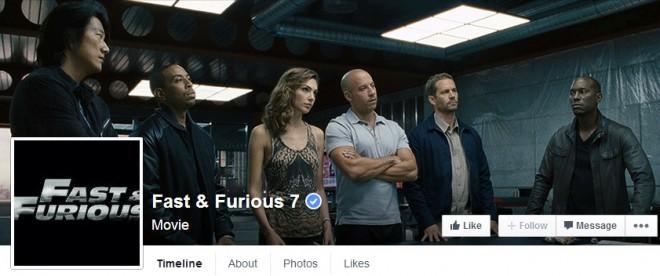 The new poster of "Furious 7" has been released. It features Paul Walker and Vin Diesel, and has been captioned as "One Last Ride, Furious 7".
Diesel can be seen standing with his head bowed down, whereas Walker is seen standing in a defiant pose. Both the stars are dressed in suits.
The poster reportedly pays tribute to Walker who passed away in a car accident on 30 November, 2013. The actor's car met with an accident while he was coming from a charity event. SHooting for "Fast & Furious 7" had already begun when he died. After Walker's demise, the film's production was delayed and the script was reportedly tweaked to incorporate the farewell of the late actor. His brothers Cody and Caleb Walker completed the remaining scenes. Walker's character Brian O' Connor will reportedly retire in the film.
Meanwhile, recently the second trailer of the film was also released. It opens with Dominic Toretto (Diesel) saying, "The most important thing in life will always be the people right here, right now." It gives a glimpse of the Fast 7 gang and shows Ian Shaw (Jason Statham) warning Toretto that he is coming after him. Luke Hobbs (Dwayne Johnson) is seen engaging in a fight with Shaw and Connor (Walker) is seen attending a funeral with other members of a gang. The teaser ends with Toretto indulging in an intriguing car adventure where his car is shown falling off from a building as he jumps out of it.
"Fast & Furious 7" has been directed by James Wan. The film will start off from where "Fast & Furious 6" left. It will show Shaw taking revenge of his brother Owen Shaw's death. The star cast of the film includes Diesel, Walker, Johnson, Statham, Rodriguez, Jordana Brewster, Ludacris, Tyrese Gibson and others. The film is scheduled to be released in April, this year.