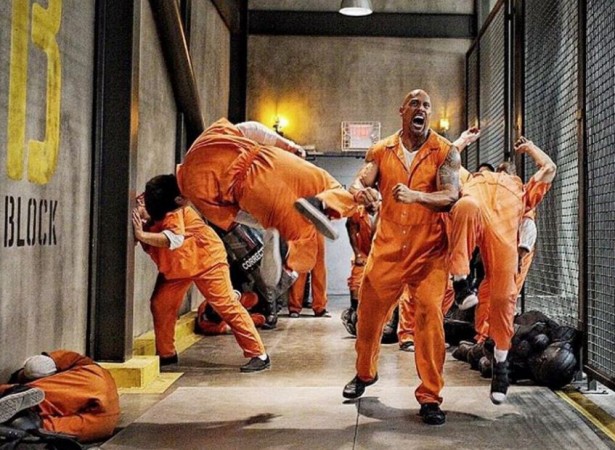 It looks like Dwayne Johnson will not be doing much acting as DSS agent Luke Hobbs in the upcoming "Fast 8" because he seeing red on the sets already and had no reason to pretend on screen. Johnson, who is among the main cast members of the eighth instalment of "Fast and Furious" franchise, has gone on a Facebook rant to express his anger over the lack of professionalism exhibited by his male co-stars in the film.
As fans know, "Fast and Furious" is one of those franchises where it always looks like the actors are having fun and consider each other as family. This expression of solidarity was especially visible right after Paul Walker's death, but from Johnson's Facebook post it looks like things aren't as merry as they seem.
While the former WWE star commended his female co-stars on being amazing, he pointed out that many of the male co-stars do not conduct themselves in a professional manner. "My female co-stars are always amazing and I love 'em. My male co-stars however are a different story. Some conduct themselves as stand up men and true professionals, while others don't. The ones that don't are too chicken shit to do anything about it anyway. Candy a---," he says.
Also Read: Former Miss Hong Kong Toby Chan willing to go topless
Johnson further adds that when his fans see him in "Fast 8" on 14 April, 2017, they might feel like the anger he displays is too real. This is because he is, in fact, very angry. "When you watch this movie next April and it seems like I'm not acting in some of these scenes and my blood is legit boiling - you're right," he says. Always the optimist, Johnson thinks that at the end of the day, the anger he was feeding on the sets works well for Hobbs and as a producer he is happy about that.
Now, Johnson has not given specific details as to who he is talking about, but it is hard to ignore Vin Diesel may be at the receiving end of this rant. Diesel is part and parcel of the "Fast and Furious" franchise and if he were to behave unprofessionally none of the other co-stars would be able to do much about it. Unless Johnson decides to open up more about this or one of his "Fast 8" co-stars decides to comment on it, all we can do is speculate.