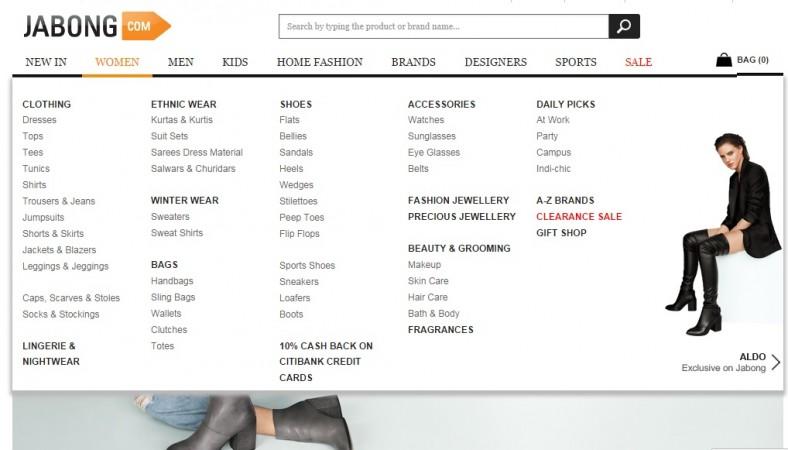 Fashion and lifestyle e-commerce portal Jabong recorded a five-fold increase in losses to ₹160 crore during the calendar year 2014 due to high discounts on its offerings, although its revenue growth went up by 136% to ₹811 crore, according to the annual of Rocket Internet, its major stake holder.
Jabong witnessed a loss of ₹32 crore on sales of ₹344 crore in the previous year.
However, a positive development in Jabong's performance last year was the increase in gross merchandise volume (GMV), the total sales of products on its platform, by 158% to ₹1,321 crore, The Economic Times said.
A recent study by UBS estimated the online retailers to turn profitable by 2020 as operating costs (as a percentage of GMV) are likely to decline by an estimated 400 basis points.
Considering the earnings before interest, taxes, depreciation and amortization (EBIDTA), the company had spent about ₹1.55 paise on every one rupee it earned through sales last year. In 2013, it was ₹1.68 paise.
Berlin-based internet company Rocket Internet holds 21.4% stake in Jabong, which was launched in 2012. Jabong competes with Myntra in online apparel retailing.
Fast-growing domestic online retailers have come under severe criticism from industry watchers for high discounts and skyrocketing valuations.
Meteoric growth seen in India's e-commerce sector in the last five years was largely led by huge discounts offered by the companies to attract customers to online shopping, PricewaterhouseCoopers (PwC) said in report.
Nonetheless, by following an aggressive discounting strategy, the players in the online market have witnessed a manifold increase in their customer base.
UBS expects the online retailing market to grow 10 times to range between $48 billion to $60 billion by 2020, based on internet penetration, per capita gross domestic product (GDP), and total retail market size in the country.
According to management consultancy AT Kearney, lack of broadband and mobile internet access is constraining the growth of Indian e-commerce market.
Though online sales in India increased by 27% to $3.8 billion in 2014, the market size is far below that of other emerging markets such as Brazil with a size of $13 billion, the consultancy added.
Discounts will come down as growth moderates from current supernormal phase (to attract more consumers) to moderate growth phase (more users buying online for convenience, choice, etc.), UBS told to NDTV Profit.