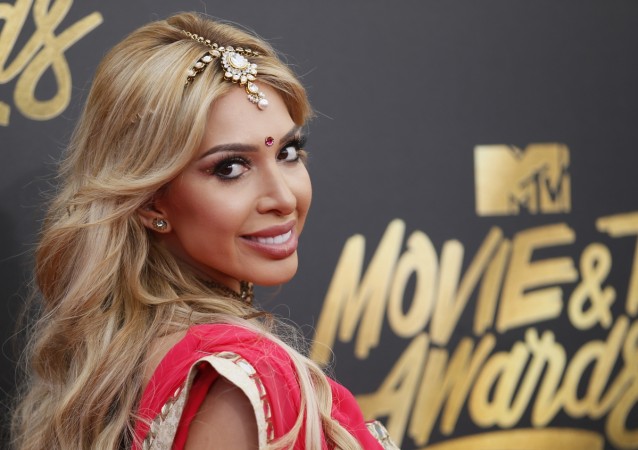 Oh ho! Looks like this publicity stunt landed Farrah Abraham in more trouble than she dreamed of. The Teen Mom OG star attempted the raunchy move of filming a live porn session. In collaboration with CamSoda, the diva intended to live stream a one-woman sex show for her fans.
However, she did not completely go through with the stunt. Stuck like a cat on the wall, she has pissed off fans for not providing what was promised and has disappointed MTV and the parent company Viacom with the porn venture.
Also Read: Farrah Abraham suffers wardrobe malfunction and lets it all out in revealing bikini [PHOTOS]
As a result, Farrah has been shown the exit door by MTV and fans are demanding a refund from the star. Ouch!
Upset fans:
Farrah knew that fans would throng to the live streaming website, despite the occasion of Halloween to watch her act. But she did not know that it would backfire so much that people would begin demanding their money back.
"Farrah's live cam show on Monday night left many fans disappointed. Some have reached out because her social media promotion leading up to the show created unfulfilled expectations. I want to be vehemently clear and say that all users have received a full refund for all the tokens they spent on Farrah's show," CamSoda vice-president Daryn Parker told Hollywood Life.
"Farrah did not perform anal as planned and promoted. Instead, she was dressed in lingerie and used the time during the show to promote her anal products and vocalize her displeasure with MTV's decision," a source close to the live streaming platform revealed.
Farrah thrown out of MTV:
The Teen Mom star took to Instagram to claim and slam MTV thrown her out her show. "Even though #Viacom fired me today they couldn't help but to exploit myself & my daughter for their promotional gain – Viacom let me go because as a Business Mogul I act like an adult and part take in adult promotions and activities that other adults do for FREE or in private," she wrote.
"Even though I have successfully been to gentlemen's clubs appearances they filmed and Viacom filmed me at the AVN's & Viacom shows and glorifies showing couples having sex on their network but as stated today, my brands' press outshines the Teen Mom Viacom press – Sad such a phenomenal show will no longer have its biggest talent on the show because of women hating, sex shaming, hate crimes, selfish, Weinstein company power trip behaviors against a professional hard working, honest mother," she continued.
"I'm proud of myself not giving in to be sex shamed by Viacom network, Proud to not have a network take away financial opportunities for my goals, proud to be an advocate for a healthy sex life, safe sex, teen pregnancy prevention and so much more while I run companies in different fields and scale them," she added.
"If God's for you who dare be against you. I look forward to writing my first business book and sharing all of these life-changing experiences in detail, from scheming producers & executives to jealous celebrities, what to do to overcome, not be shattered & stay true to the free world we live in!" she concluded.