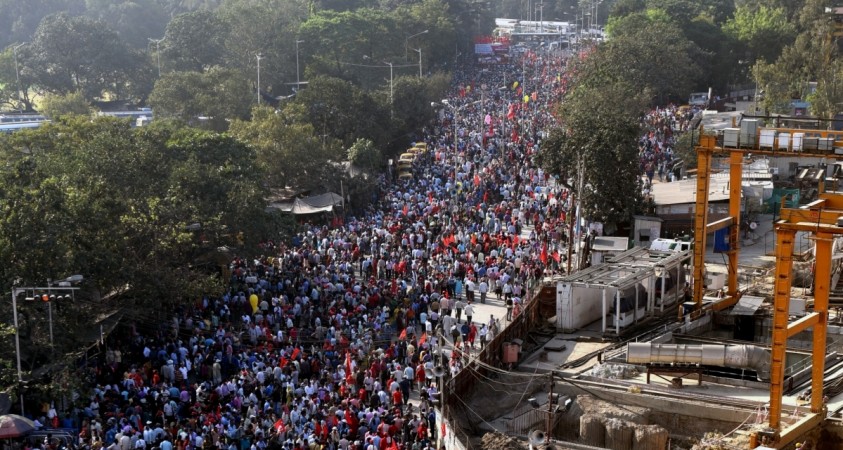 Thousands of farmers across the country took to the streets of Delhi on Thursday as part of a two-day Kisan Mukti March protest in the capital to demand complete loan waivers, minimum support price for crops and the passing for two private members bills by the parliament.
The farmers reached Ram Lila Maidan on Thursday night and braved the Delhi cold by spending the night as well. Gurudwaras across the city provided shelter for the farmers who converged in the national capital from Tamil Nadu, Kerala, Meghalaya and other parts of the country to demand the government to look into the agrarian crisis.
On Friday, the farmers plan to lead a final walk from Ram Lila Maidan to the Parliament where they demand to have a 21-day special session to address the farmers' issues.
'They misuse the name of Ram for votes,' says Yechury while talking about BJP
"We will unseat the BJP and bring an alternative, and raise your issues in the Parliament. The BJP's brahmastra is the Ram mandir. They rake it up every five years, but we will have to tell them that today the marginalised, the workers, the farmers are all united. They misuse the name of Ram for votes. They talk about Ramayana, but forget Mahabharata. In Mahabharata, the Kauravas used to say how five Pandavas will defeat us. Today, does anybody remember the names of the Kauravas? The growth rate of agriculture has come down under the Modi government as against the growth seen during the UPA era," Yechury was quoted as saying by Indian Express.
Opposition displays a strength of unity at Kisan Mukti March
Kejriwal demands govt to implement Swaminathan Report
While addressing the farmers gathered at Parliament Street, Delhi chief minister Arvind Kejriwal said that the Central Government has only five months left and they have to implement the Swaminathan report.
He added, "Warna 2019 mein ye kisaan qayamat dha denge."
Rahul Gandhi addresses farmers march
Congress president Rahul Gandhi addresses the farmers march near Parliament Street. According to ANI, he said, "If the loans of industrialists can be waived off, then the debt of farmers must be waived off as well. I assure the farmers of India, we are with you, don't feel afraid. Aapki shakti ne is desh ko banaya hai."
He added, "Modi ji had promised MSP will be increased, PM promised bonus, but look at the situation right now, empty speeches are being given and nothing else."
Widows, daughters of farmers who committed suicide take part in march
Widows and daughters of farmers who committed suicide due to mounting debt take part in the march from Ram Lila Maidan to Parliament Street carrying photos of the dead farmers.
Last year, farmers from Tamil Nadu carried the bones of the those who committed suicide in a protest in Delhi.
Farmers reach Parliament street after permission granted by Delhi police
All India Kisan Sangharsh Coordination Committee (AIKSCC) got the permission around midnight to march on Parliament street.
They received the permission but had a few conditions.
"Delhi Police held multiple rounds of talks with farmers' leaders and gave permission for rallying from Ramlila Maidan to Jantar Mantar, with conditions. We hope that they'll follow the conditions," Deputy commissioner of police, New Delhi, Madhur Verma told Hindustan Times.
He added, "Proper arrangements done for security, traffic, and law and order. Around 8,000 farmers have reached Ramlila Maidan. They will conclude their march at Parliament Street and culminate their protest from there."
The AIKSCC organised the Kisan Mukti March and have managed to bring together thousands of farmers from all over the country to the capital.
Sitaram Yechury calls Modi 'anti-farmer'; shares a video of farmers' march in the capital
CPI(M) general secretary Sitaram Yechury said that the farmers are in the capital to collect their dues and that the Modi government is the most 'anti-farmer'.
He also said that that government was ignoring the farmers' needs and only focussing on a communal vote bank.
Farmers march near Barakhamba Road in New Delhi
Farmers on their way to Parliament
Security beefed up in Delhi
Over 13 police forces and 3,500 security personnel have been deployed to ensure no outbreak of violence as farmers marched from Ram Lila Maidan to the Parliament.
Around 850 police personnel have been deployed at Central Delhi alone.
AAP, NCP leaders to join protests
AAP chief and Delhi chief minister Arvind Kejriwal, NCP leader Sharad Pawar and National Conference chief Farooq Abdullah are expected to join protests. Sharad Yadav will also be joining the protests.
Farmers from Tamil Nadu threaten to march naked
The farmers' group from Tamil Nadu have threatened to march naked if they are not allowed to go to the Parliament.
Farmers gear up for day 2 of the Kisan Mukti March
On day 2 of the protests, the farmers will march from Ram Lila Maidan to the Parliament to demand a three-week special session to look into the agrarian crisis which has hit the country. Complete loan waivers, implementation of the Swaminathan Commission, the passing of two private members bills and a minimum support price are also part of their demands.
Singer Jasbir Jassi performed at Ram Lila Maidan on Thursday night
Delhi: Singer Jasbir Jassi performs at farmers' protest in Ramlila Maidan. Farmers from all over India have gathered in Delhi to participate in a 2-day protest over their demands, including debt relief & better MSP for crops. pic.twitter.com/b0a8LY16c1

— ANI (@ANI) November 29, 2018
Former PM Deve Gowda on farmers' protest
"No government can survive without farmers. The Union government must listen to their demands. The farmers of this country have awakened and they cannot be fooled," HD Deve Gowda was quoted as saying by Hindustan Times.
Visuals of Kisan Mukti March from Delhi
Farmers march towards Ram Lila Maidan [WATCH]
AAP volunteers provide food and water for farmers after day 1 of protest
While the farmers spent the biting cold night at Ram Lila Maidan, AAP volunteers helped out by providing food and water to the thousands present. The volunteers also helped in pitching tents for the protesters to sleep in.