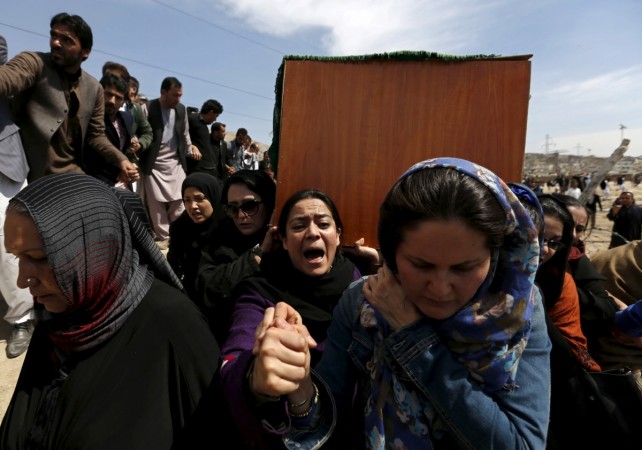 The Afghan woman who was brutally lynched by a mob in Kabul after being accused of burning the Quran was innocent and was also not mentally ill as her father had claimed earlier, raising doubts whether her education and her profession as a teacher sparked the gory murder.
Twenty seven-year-old Farkhunda was beaten to death by a group of men last Thursday even as policemen stood watching, and her body was later set alight and dumped in a river, after the men alleged that she had burned a copy of the Quran.
Afghanistan's top criminal investigator General Mohammad Zahir revealed on Sunday, during Farkhunda's funeral, that she was 'totally innocent'.
"Last night I went through all documents and evidence once again, but I couldn't find any evidence to say Farkhunda burnt the Holy Koran. Farkhunda was totally innocent," General Zahir told the media, according to Reuters. He said 13 people had been arrested.
Farkhunda's brother, Najibullah also dismissed previous claims by his father that she was mentally ill, and said that she used to teach Islamic Studies.
Najibullah said their father made up reports that Farkhunda was mentally ill to protect the family after the savage attack.
"My father was frightened and made the false statement to calm people down," Najibullah said, Reuters reported.
In a country ruled for several years by the hard-line Taliban, during which women were forbidden from attending schools, the regressive culture still persists in several parts, and the withdrawal of foreign troops is expected to further push the society into becoming a repressive environment for women.
According to The Associated Press, Farkhunda had recently received a degree in religious studies and was set to become a teacher.
The agency cited a dispute between Farkhunda and some amulet sellers near a mosque as a possible reason behind her murder.
Farkhunda had reportedly told women not to waste their money buying amulets from the men, and the men may have responded by falsely accusing her of burning the holy book.
Farkhunda was buried on Sunday as women's rights activists broke from tradition and carried her coffin, a practice usually reserved for men.