Farhan Akhtar and wife Adhuna Bhabhani parted ways amicably in 2016, ending their marriage of 16 years. The estranged couple has been on cordial terms and has been taking care of their two daughters Shakya and Akira since then.
There have been numerous occasions when Farhan refrained from talking about his ex-wife. He was even seen getting angry at journalists who asked him about his relationship with Adhuna after their divorce.
It now looks like Farhan is not bothered about anything associated with his ex-wife Adhuna.
Adhuna recently posted a collage on her Instagram where she was seen getting cozy with her boyfriend and Dino Morea's brother Nicolo Morea. She also posed with her other friends who were seen wearing jerseys that had Adhuna's salon brand's name, B Blunt, written on it.
And to everyone's surprise, Farhan chose to take a moment out of his busy schedule to "like" the picture. He even chose to comment on her post.
He wrote: "Nice jerseys Od.. You all look great but GB image bottom right is the bomb..! Hehehe."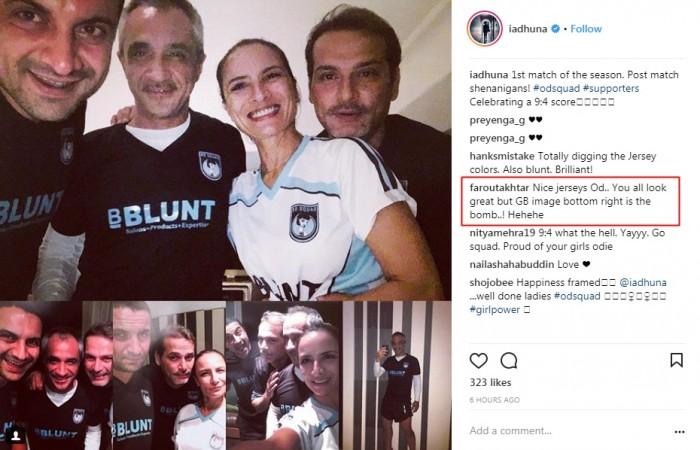 Farhan and Adhuna in 2016 announced their separation through a joint statement that read: "This is to announce that we, Adhuna and Farhan, have mutually and amicably decided to separate. Our children remain our priority and it is immensely important to us, as responsible parents, that they be protected from unwarranted speculation and public glare. We sincerely request that we are given the privacy that is required at this time to move forward in a dignified manner."
Farhan and Adhuna had tied the knot in 2000. After filing for divorce in October 2016, the couple was granted divorce April 24, 2017, by a family court in Mumbai.