The commercial success of MS Dhoni biopic has paved way for much more biopics on sports personalities. Recently, producer duo Farhan Akhtar- Ritesh Sidhwani announced that they will make a biopic on Deepa Malik, who became the first Indian woman to win a medal at the Paralympic Games.
"I had watched videos of her and knew that her life story was unreal, but when I met her and she let me hold her medal, the sheer weight of the silver gave me gooseflesh. At one point in her life, she had to choose between death and life in a wheelchair and she chose the latter," Ritesh told Mumbai Mirror.
But as she sat in front of me, there was nothing differently-abled about her. She was empowering, a pillar of strength, and I knew that we needed to take her fight to the big screen."
The film is still in pre-production stage. The makers have just started to work on the script of the film, which is expected to go on floors next year. Also, the makers have not finalised the cast of the film.
But who is Deepa Malik and why has her journey inspired Bollywood filmmakers to make a movie on her?
Here are a few facts to know about the Paralympic silver medalist Deepa Malik.
Who is Deepa Malik?
Deepa is a paraplegic, paralysed from the waist down, but this has not stopped her from becoming the first Indian woman to win a medal at the Paralympic Games. The Limca Book record holder is also a record-breaking swimmer, adventure sports player, international athlete, biker, and entrepreneur.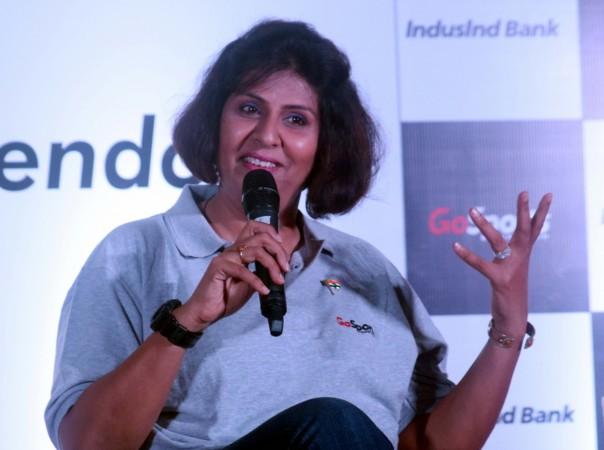 Deepa's family
The 45-year-old is married to veteran Colonel Bikram Singh Malik. Her father is also from the Indian Army. She is a mother of two daughters -- Devika and Ambika. Deepa said that being from the army taught her to focus on her duties.
"When you're in battle mode, nothing comes between you and your duty," Livemint quoted her as saying. "There was no melodrama about my absence from family life during the year. Everyone understood that's what faujis do."
Diagnosed with spinal tumour
Deepa's life had been full of adventures, but in 1999, things changed when a spinal tumour paralysed her from the chest down and made walking impossible for her. She underwent three surgeries and 183 stitches between shoulder blades, but she emerged as the winner.
She began to pursue her dreams
Before surgery, she was happy being a housewife, but disability gave her a focus, she said. She started to pursue her dreams by first joining the Himalayan Motorsports Association (HMA) and Federation of Motor Sports Clubs of India (FMSCI). She drove 1,700 km in around eight days in sub-zero temperatures, according to reports.
She participated in MTV Roadies
Not people know, but Deepa appeared in MTV Roadies reality show twice. She made her first appearance in 2007 during which she was shown on her specially adapted motorbike. She made the second appearance in 2012 and challenged contestants to a swimming race.
Limca Records
She holds four Limca Book records, India's answer to Guinness World Records, and most remarkably for swimming in filthy and dangerous Yamuna river against the current for 1km and for the longest pan-India drive done by paraplegic women (Chennai-Delhi 3278 km).
Deepa's records and achievements
In 2016, she created history by winning a silver medal at the Rio Paralympics. In 2012, she was honoured with the Arjuna Award. She has also won 54 gold medals at the national level and 14 gold medals at the international level in swimming, javelin throw, and shot put.
Here are a few records and ranking, according to her website.
1. Holds An Official IPC Asian Record In Javelin F-53 Category – Felicitated by Milkha Singh ji and P.T.Usha ji

2. Holds All Three National Records In Throws {Discuss, Javelin, Shot-put} In F-53 Category

3. Holds All Three National Records In S-1 Swimming Category {Back Stroke, Breast Stroke, Free Style }

4. World Ranking 2010-12 – 2nd Shot-put, 3rd -Discus, 3rd Javelin

5. Asian Ranking 2010-12 – 1st In All Three Throws