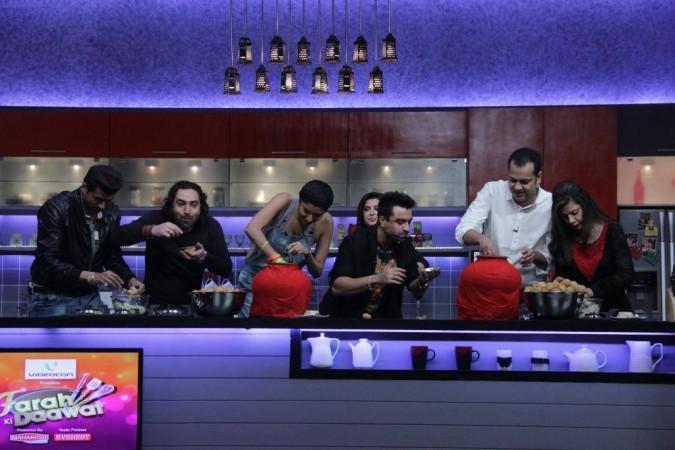 Bigg Boss contestants Pritam Singh, Diandra Soars, Praneet Bhatt, Sambhavna Seth, Rahul Mahajan and Ajaz Khan will be displaying their skills in the second episode on Colors' new TV show 'Farah Ki Daawat' to be aired at 8 pm on Sunday, 1 March.
The bosses of 'Farah Ki Daawat' have released some photos and videos featuring six Bigg Boss contestants. They have confirmed that the episode featuring them would be aired tonight. On its official Twitter page, they tweeted, "Be ready to enjoy cooking with your favorite #bigboss8 contestants tonight on #FarahKiDaawat only on @ColorsTV at 8PM."
This episode is going to be very entertaining as host Farah Khan is seen giving them the task once again after 'Bigg Boss Halla Bol'. Colors has revealed nine reasons why one must watch the 'Bigg Boss' contestants in 'Farah Ki Daawat'. The contestants show off their culinary skills along with some dance moves.
Praneet Bhatt and Ajaz Khan are seen competing for the title of 'Sabse Bada Pakau Kaun'. They will eat the maximum number of 'Paani Puris' to win this title. The bosses of the show posted a photo of their competition and tweeted, "So, how many can you gulp down? Watch the show tomorrow at 8 PM on @ColorsTV to see how many @AjazkhanActor did?"
The second episode of "Farah Ki Daawat" will feature a question-answer session, which will be funny as well as entertaining. In this session the contestants are asked to compare themselves with different food items and vegetables. They are seen singing songs on certain items that are displayed by Farah Khan.
"Farah Ki Daawat" is created and produced by Wizcraft International Entertainment, while Videocon presents it. The makers of the show say that the second episode will offer unlimited fun to its viewers. They tweeted, "Entertainment Unlimited! Tomorrow @ 8PM on @ColorsTV​."