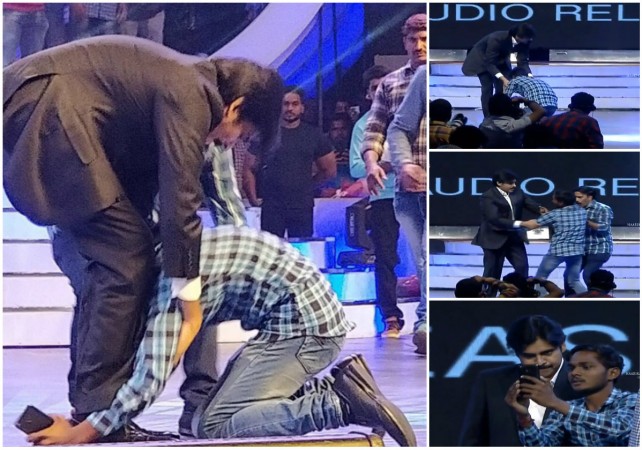 Pawan Kalyan's gesture towards a fan at the audio launch of Agnyaathavaasi (Agnyathavasi / Agnathavasi) has stunned many in the film industry, who feel that Nandamuri Balakrishna should take a cue from the power star.
Agnyaathavaasi, which is set for grand release on January 10, is one of the most-awaited Telugu movies and the makers are busy promoting the film. The producers had organised a grand function for its audio launch on Tuesday. And a small incident that happened on the occasion stole the show and is creating ripples in the social media.
A crazy fan ran up to the stage when power star Pawan Kalyan was addressing the audio launch of Agnyaathavaasi. He fell to the feet of the actor and touched his forehead a couple of times. He also requested his matinee idol for a selfie with him. This sudden incident was a big surprise for many people at the function.
The makers of Agnyaathavaasi had taken utmost care about security. They had distributed thousands of passes to the fans of the mega family and announced to allow people with the passes only at this grand gala music release. The incident of the crazy fan came as a big shock for them.
The moment the fan fell to Pawan Kalyan's feet, the people present on the stage, ran to the fan, pulled him and tried to take him to the other side of the stage. But the power star remained calm and composed. He released the fan from the clutches of the security staff and allowed him to take a selfie with him.
Pawan Kalyan's kind gesture touched the hearts of everyone present at the music release of Agnyaathavaasi. Now, videos and photos featuring the scene have gone viral on social media.
At present, Pawan Kalyan and Nandamuri Balakrishna boast of such crazy fans. While getting fans is a big challenge for many young heroes, maintaining this crazy fandom is a herculean task for some senior actors. The craziness of fans has made some superstars lose their cool and react harshly on some occasions.
Balakrishna is one such superstar, who has often created headlines for slapping, pushing and shouting at his fans on various occasions in recent months. He was criticised a lot for his bad temper. Pawan Kalyan's kind gesture has made some feel that Balayya should learn from him on how to handle fans.