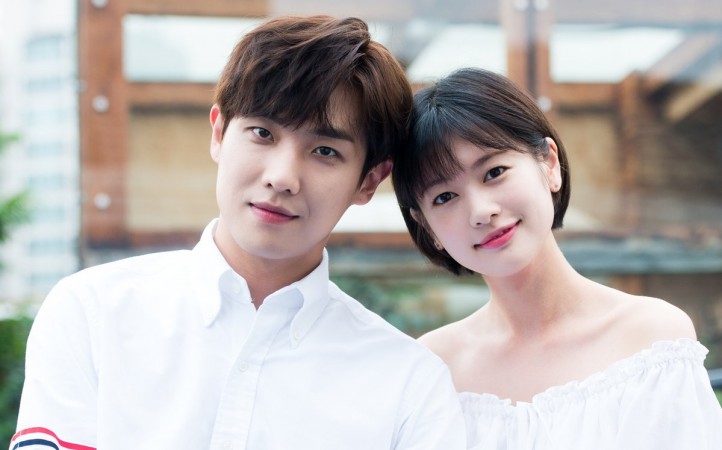 The dating news of Jung So Min and Lee Joon, the lead cast members of popular KBS drama My Father Is Strange, has come as a surprise to many of their fans across the globe.
The admirers of the two celebrities have already started flooding the social media with congratulatory messages.
Many of the netizens described them as "cute" and "sweet" couple of the Korean entertainment industry. A section of fans also branded them as the "best couple of 2018".
Also read Because This Is My First Life: Actor Lee Min Ki to be back on TV after 10 years
Check out some of the Twitter reactions below:
2018 OFF TO A GREAT START. My favourite otp are ACTUALLY DATING LIKE YASSSSS
I don't feel so disheartened now that they didn't get the Best Couple award at KBS drama awards. COS THEY ARE TOGERHER IN REAL LIFE. ALL I WANT IS FOR THEM TO BE TOGETHER FOREVER LIKE SSC
OMOOO, THEY LOOK SO CUTE TOGETHER...SERIOUSLY I'M HAPPY FOR THIS NEW COUPLE...
OMG what a beautiful new year surprise. #LeeJoon & #JungSoMin are dating. My OTP. Can't control my happiness right now
Yess... my cute couple Congrats #LeeJoon and #jungsomin
I hope that this couple will rnd up with marriage
Congratulation #leejoon #JungSomin my best couple #2018
It's not "like a scene from a movie".. It's "like a scene from Father is Strange" I love you so much. Godbless to both of you A HAPPY New Year indeed
I'm just so endlessly happy for #LeeJoon It's hard to find love in their business and all the more so when you have a sensitive & thoughtful mindset. The most deserving ones often have the hardest time finding love so those 2 finding each other is simply wonderful!
Jung So Min and Lee Joon officially confirmed their relationship soon after the dating rumours about the two started doing the rounds online.
"Jung So Min first met Lee Joon as a co-star on 'Father is Strange,' and they began dating in October. We would be grateful if everyone would watch over them warmly," Jung So Min's representative said in a statement released by Jellyfish Entertainment.
"Lee Joon is currently in a relationship with Jung So Min, who he met through 'Father is Strange.' They began dating in October and are currently very supportive of each other. Lee Joon is currently getting plenty of rest so that he can do his best when he returns to the army after his break ends," the representative of Lee Joon said.